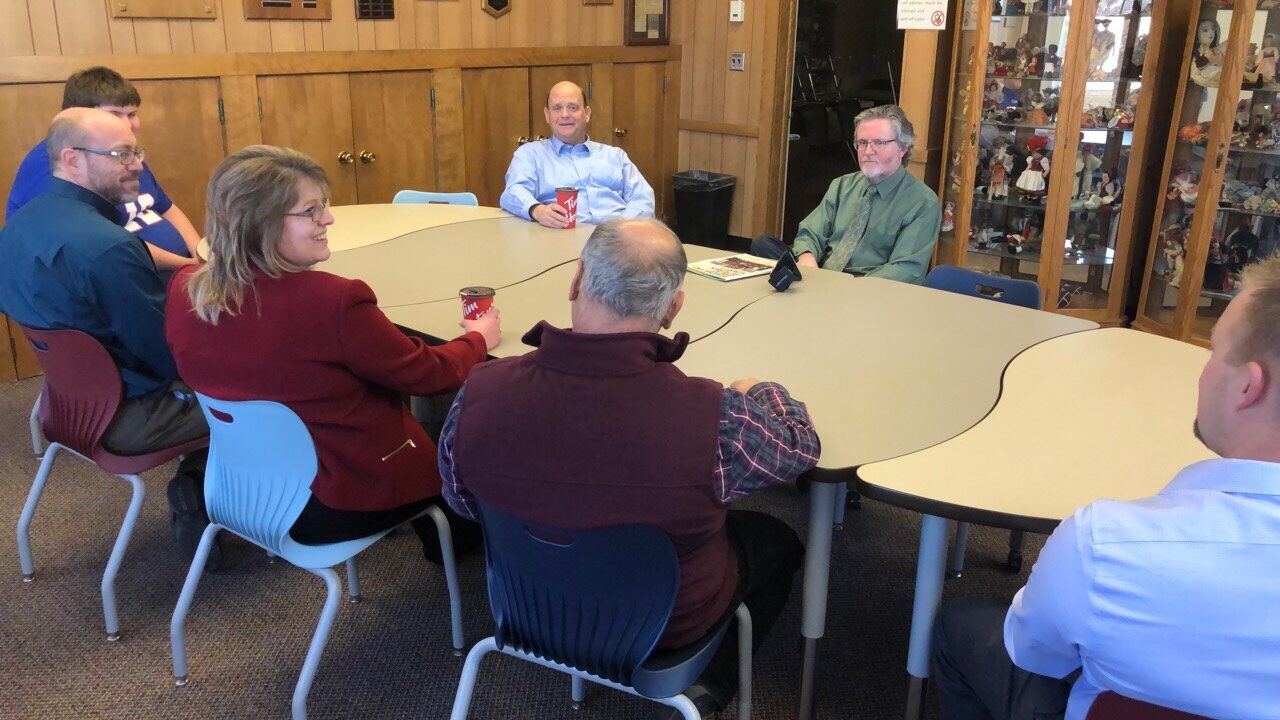 JAMESTOWN – During a Friday visit to the Winifred Crawford Dibert Boys and Girls Club, Congressman Tom Reed and club officials discussed how poverty and the drug epidemic have a huge impact on area youth, and how the club helps children in need.
Boys and Girls Club Executive Director Jeffery Kroon said that some of the kids that come through his doors come from tough life situations, and the center tries to make sure that they feel supported and safe.
"We try to make sure that they all feel comfortable, safe, appreciated and supported," said Kroon. "It is becoming a more and more dangerous world for everyone and that is even true for young children. That is a lot to deal with."
Kroon said that meeting with Congressman Reed was important to continue the conversation in trying to find solutions to obstacles like the drug epidemic.
Reed said that marking the area with a "high drug density traffic designation" spearheads resources for local law enforcement. Reed said that resources like the Boys and Girls Club are invaluable to the community.
"Having a resource like this where the kids maybe have that peer-to-peer experience or have a worker here who sees a child in crisis or potentially going down that path. You can not measure that success in numbers," said Reed.
The Congressman said he is looking forward to working with the newly-elected Chautauqua County Sheriff Jim Quattrone in the coming year to combat crime.
"His tenure as Sheriff I think is going to be a real successful one," said Reed. "He is committed to the community, he believes in the community, he shows up, and that is one of the biggest assets that the Sheriff brings to the table."
Reed said Quattrone's community policing model will bring success to law enforcement in the county.
"Organizations like this, where neighbors are helping neighbors, peers are helping peers, and people are communicating with each other and you start to break these barriers where before there maybe wasn't a trust with law enforcement."
Reed said it will take a multi-prong approach to solve the drug epidemic. Reed added that it is important to have strong law enforcement, as well as available treatment and prevention.
During Reed's tour, the Congressman met with administrators and club members to see what a typical afternoon looks like at the Boys and Girls Club.
From gym activities to arts and crafts and computer time, the children who attend the club are able to participate in a variety of fun, safe and age-appropriate opportunities.
The club is open after school on week days for children to visit, and also includes sports programs and swimming lessons during the year.
Scholarships are available for club memberships and other activities so finances don't keep students from taking part. Club officials said United Way Of Southern Chautauqua County supports the club through grants which, in part, makes the scholarships possible.
"It's clear to me that the Boys and Girls Club provides needed services here in Jamestown," Reed said. "We care about making sure children are safe and have opportunities for activity and education after school. We're thankful to Jeff Kroon, the club's executive director, and his staff for being a bright light in this community."
The Boys and Girls Club of Jamestown was founded by the Jamestown Rotary Club in 1939, making 2019 its 80th year. The club is now serving a fourth generation of Jamestown's youth.
Kroon explained that support from government officials like Congressman Reed is key to the center's success.
"Boys & Girls Clubs across the country have a strong and successful partnership with local, state, regional and national government initiatives," said Kroon. "Advocacy for our youth and ongoing legislative support of critical youth programs allow us to serve more youth more often, and to have a greater impact in their lives over time."
Kroon said the club's mission is to enable all young people, especially those who need the club the most, to reach their full potential as productive, caring and responsible citizens.
The club is located at 82 Allen St. For more information, call 716-664-2902 or visit www.bgcjamestown.org.