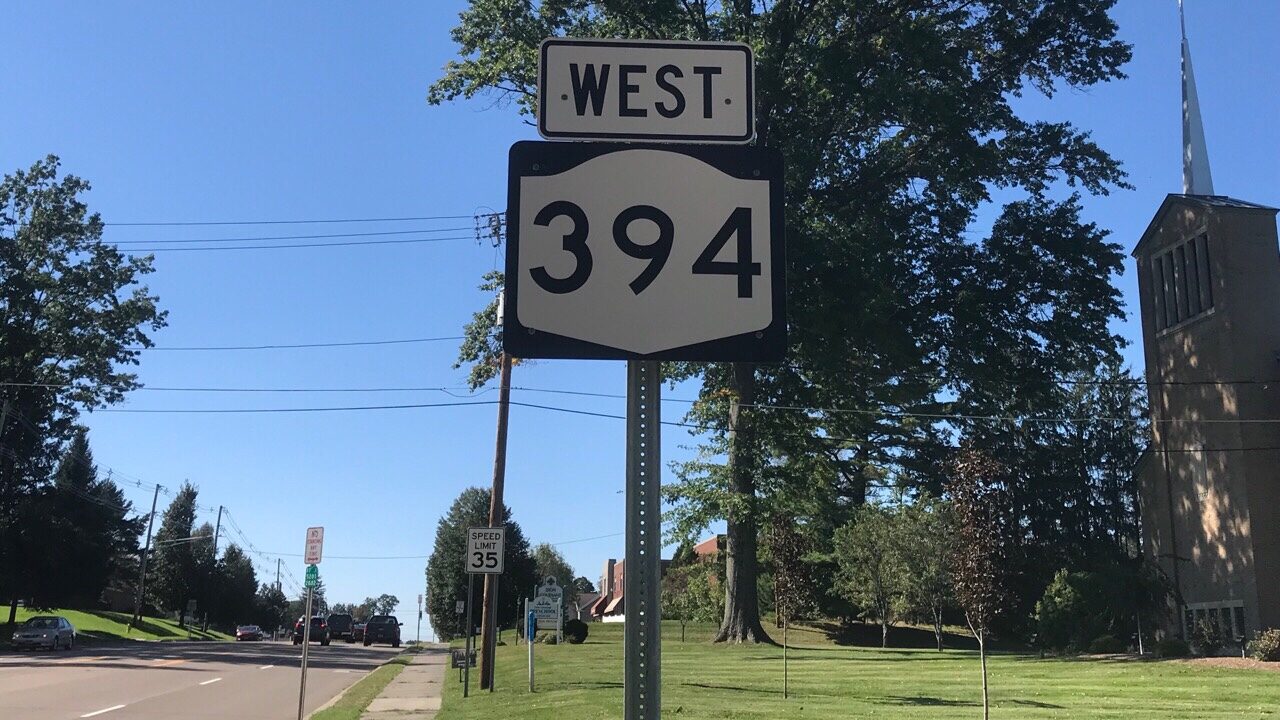 ELLICOTT – Celoron native and Iraq War Veteran Sgt. James C. Matteson was posthumously remembered Friday with the dedication of State Route 394 in the Town of Ellicott as the "Sergeant James C. Matteson Memorial Highway."
The dedication was the culmination of legislation at both state and local levels to designate the highway in honor of the soldier who lost his life while heroically serving his nation on November 12, 2004 during the Battle of Fallujah.
"Staff Sgt. Matteson was the very definition of 'hero'," said Assemblyman Andy Goodell. "A scout at the vanguard of the second Battle of Fallujah – the fiercest battle of the Iraq War – Sgt. Matteson's courageous actions during that conflict helped save the lives of fellow soldiers and advanced the mission to retake the city."
"Sadly, his selfless, valiant efforts came at the cost of his own life. The dedication of this highway is a tribute to Sgt. Matteson's bravery and patriotism and a reminder of the tremendous sacrifices made by our young men and women to keep America safe and free."
Sgt. James "J.C." Matteson was a 1998 graduate of Southwestern High School, where he was a standout athlete who excelled in football, wrestling and track and field. Shortly after graduating, he was inducted in the U.S. Army.
As an Army scout, he was among the first U.S. soldiers engaged in the drive to free Fallujah from an estimated 5,000 Iraqi insurgents.
On the night of November 11, 2004, under the cover of darkness, Sgt. Matteson and his scouts helped spearhead an operation that resulted in three soldiers being wounded and trapped inside an insurgent-held building.
Sgt. Matteson threw a smoke grenade to provide concealment as he helped evacuate the wounded scouts. He then engaged the enemy by providing covering fire, allowing members of his unit to launch a counterattack on the building. The attack collapsed the structure, killing all the insurgents inside.
The next morning, November 12, Sgt. Matteson was leading his task force when insurgents ambushed the unit. At the start of the ambush, he left the safety of his vehicle to return enemy fire, giving other vehicles in the convoy time to take up better firing positions. From his exposed position, Sgt. Matteson continued providing suppression fire until he was fatally struck by an insurgent's rocket.
The fighting in Operation Al-Fajr in Fallujah would ensue for two months and end in a coalition victory. The operation was the bloodiest battle of the Iraq War and the heaviest urban combat since the Battle of Huȇ during the Vietnam War.
For his heroic actions, Sgt. Matteson was posthumously awarded the Silver Star for gallantry in combat. Other medals and commendations awarded to Sgt. Matteson included the Purple Heart, Combat Action Badge, Good Conduct Medal, National Defense Service Medal and Iraq Campaign Medal with Iraqi Governance Campaign Service Star. A barracks at Fort Benning, Georgia, is also named in his honor.
"Army Sgt. James C. Matteson served his country with honor in the U.S. Army from August 5, 1998 and was killed in action on November 12, 2004, 10 days before his 24th birthday," said County Executive George Borrello. "He was a beloved son, brother and friend to many, and this dedication will forever be a reminder of his ultimate sacrifice. This dedication will ensure his name carries on and it's my hope that it will inspire conversations of freedom, liberty and sacrifice."
"The courage and character that made Sgt. Matteson such an extraordinary soldier and patriot had its roots here in his hometown. While we will always mourn his loss, we are also tremendously proud and grateful for his service and sacrifice. Memorializing this roadway in his name is the permanent tribute he deserves and a way to ensure his bravery will not be forgotten," said former Sen. Catharine Young.
"Sgt. Matteson stood tall in defense of our nation and in support of liberty. Our efforts today, and the highway sign bearing his name, are our 'thank you' to this young patriot and warrior who risked and gave all for our country. He has left a legacy that will inspire future generations," said Assemblyman Goodell.