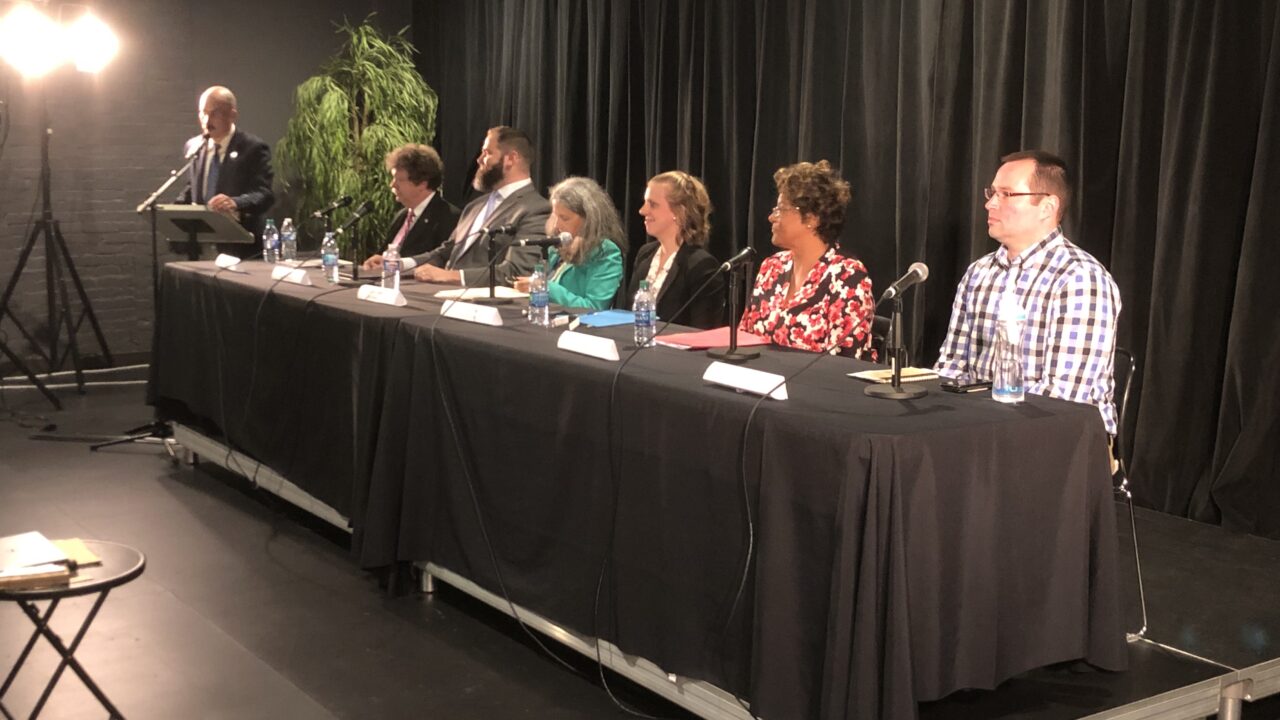 JAMESTOWN – The drug epidemic and lack of a viable workforce in the City of Jamestown took center stage Thursday night at the Reg Lenna Center for the Arts.
A total of twelve candidates running for various positions within the council discussed their ideas during a nearly two-hour forum.
WRFA's Public Affairs Director Jason Sample asked the first group of at-large city council hopefuls, Kimberly Ecklund (R, C, I), Tamu Graham-Reinhardt (D, I, WF), Raven Mason Thompson (Libertarian), Gregory Rabb (D, I, WF), Jeffrey Russell (R, C), and Taylor Scott (D, WF) what they thought the biggest challenge facing the City of Jamestown is and what they can you do as a member of the city council to work to fix it?
Candidate Jeff Russell said the drug epidemic will be his top priority if elected.
"We have a massive drug problem in our city and it is not really seen by some," said Russell. "I recently talked to someone who was looking to hire an upwards of 68 people, they drug tested those 68, and only 18 passed a drug test."
"We need to continue to reach out and help these people," explained Russell.
Raven Mason-Thompson agreed with Russell.
"We need to look more at how to better provide a fix to the epidemic," said Mason-Thompson.
Current Jamestown City Councilwoman Kimberly Ecklund said the declining tax base is at the top of her list.
"To me that is the biggest and it ties into jobs and everything that is up there," said Ecklund.
Candidate Taylor Scott said she agreed with Ecklund that tax cap is one of the biggest issues the area faces.
"We need to do a better job at taking care of these rental properties and holding landlords accountable," said Scott.
Councilwoman Tamu Graham-Reinhardt said she would like to see more investment in the community through education.
"We need to find a way to keep our young people here," said Graham-Reinhardt.
Former City Council President Gregory Rabb says the biggest challenge he sees is the city's financial situation.
"It gets harder and harder every year to balance that million-dollar budget," said Rabb. "Understanding finances is critical for the city not only to thrive, but to survive."
Sample also asked the group what their assessment of public safety services are, and what should the city to do increase manpower within the police and fire departments.
Raven Mason-Thompson said the city can not function without a safe environment.
"We need to get involved on a level that we are communicating and understating what are the needs," said Mason-Thompson. "We as a city council do have power and access to do something about a situation such as proving services and equipment before it gets out of hands."
Councilwoman Kimberly Ecklund said she is very involved in public safety because her husband is a retired firefighter.
"I would love to give each department 15 more guys to put on the street," explained Ecklund. "Realistically, where am I going to pay for it, what am I going to cut."
Ecklund said she is willing to explore every option to fund the departments, including grants.
Candidate Taylor Scott suggested to increase public involvement through neighborhood watch committees.
Rabb said as a city council member previously, he went on ride-alongs with officers who gave him great insight. He said he worked to consolidate the Jamestown Police Department and County Sheriff's Office, but was met with pushback.
Jeff Russel said as a former Jamestown Police Officer, he felt unsafe while working overnight.
"There were many times where there were four police cars patrolling the city," said Russel. "If there was a major incident, say a stabbing at the Bull Frog, that would tie up the shift."
Russell said that he would be open to consolidation, but it would have to "be done right."
In the second part of the forum, Sample also asked the six candidates who are vying for the three contested ward seats, Ward 1: Brent Sheldon (R, C, I) and Tim Smeal (D, WF, Libertarian), Ward 4: Marie Carrubba (D, I, WF) and Brittnay Spry (R, C, Libertarian) and Ward 5: Maria Jones (D) and Grant Olson (R), what they thought the biggest challenge facing the City of Jamestown is and what they can you do as a member of the city council to work to fix it?
Candidate Brittnay Spry said the biggest challenge the city faces is the budget situation and high taxes.
Current City Council President Marie Carrubba said she thinks the city needs to look at ways to help local businesses grow.
"We need to continue to work with smart city initiatives," said Carrubba.
Councilman Brent Sheldon said there are many challenges the city faces, in order to find the top one, he would like to reach out to the public.
"My suggestion is that we need to go to the people," Sheldon said. "Let's have town hall meetings, lets talk to the people."
Sheldon said services may have to be cut in order to get the budget on track.
Candidate Tim Smeal said he looks forward to celebrating and supporting the city, rather than focusing on its problems.
Candidate Grant Olson said as a business owner the lack of a dependable workers is one of the city's biggest issues.
"We need to keep people here," said Olson. "We need to give them training and get people back to work."
Councilwoman Maria Jones agreed with Olson, in order to improve the tax base, the city needs jobs.
"In order to get people here, not only do you need jobs, but you also need services," said Jones. "It is a delicate balance."
The forum was streamed live on WNYNewsNow's 24/7 streaming network, Facebook page and on WRFA 107.9 FM with live streaming audio at WRFALP.com/Streaming.