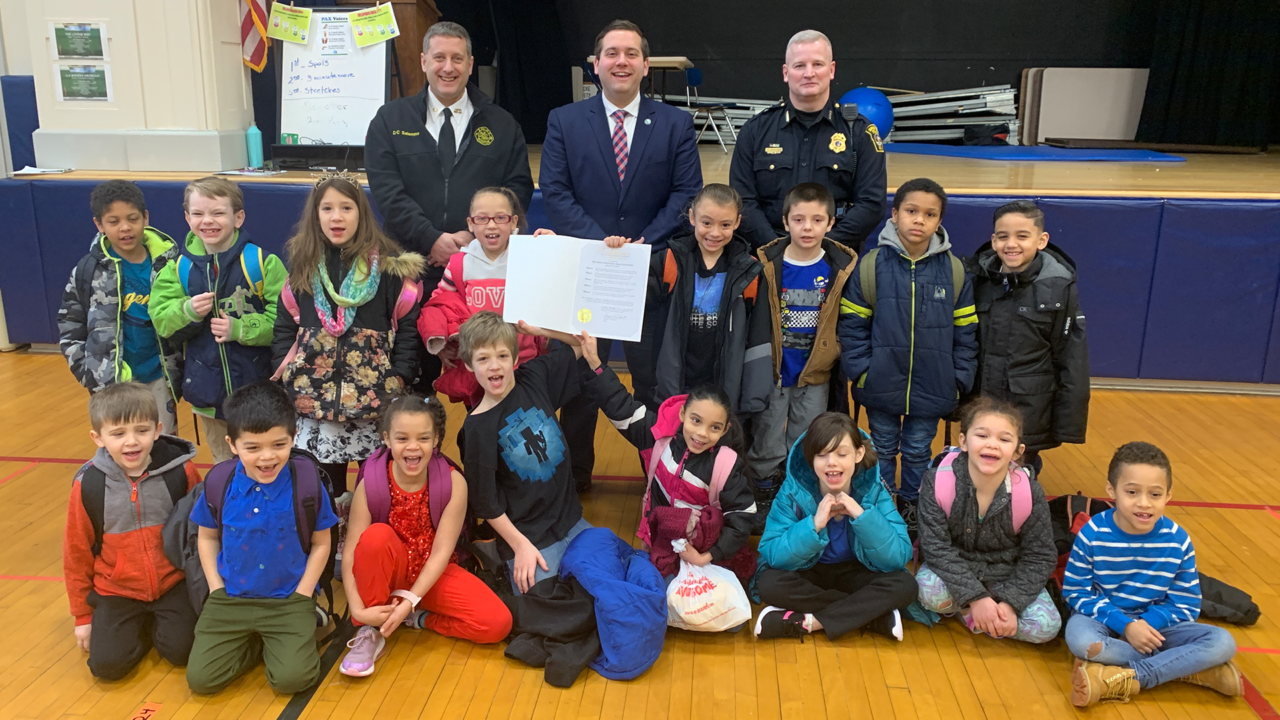 JAMESTOWN – Love Elementary School Students received a special surprise this week when City of Jamestown Mayor Eddie Sundquist, Jamestown Fire Chief Samuel Salemme and Jamestown Police Chief Harry Snellings visited their school in honor of 'The Great Kindness Week Challenge'.
City leaders visited the school to help promote being kind every day. The mayor read a proclamation declaring it was 'The Great Kindness Challenge Week' in Jamestown where everyone should perform as many acts of kindness as possible.
"We wanted to visit Love School to help our students really understand how important kindness is to our entire community," said Mayor Sundquist. "We have public safety officers going out each and every day doing some great work for the City of Jamestown, and wanted the kids to know that even those officers are kind to our residents every day."
Love students received a "kindness checklist" and they will be working on individually or as a class, to complete all 50 challenges such as: smile at 25 people, offer to help your custodian, give your friend a high five, or sit with a new group of kids at lunch.
"Our students were excited to kick off our Great Kindness Week Challenge with Mayor Sundquist, Fire Chief Salemme, and Police Chief Snellings," said Principal Renee Hartling. "To have leaders in our community come and support our students and emphasize that kindness extends beyond the school was wonderful."
"We often talk about the importance of being kind, today it was supported by our community leaders and now our students are motivated to practice kind acts this week and beyond as they learn that Kindness Matters."
'The Great Kindness Week Challenge' is a national program with over 13 million kids and over 24,000 schools participating in over 650 million acts of kindness in 2018.
The challenge is a proactive and positive bullying prevention initiative that improves school climate and increases student engagement.
Officials say it is a powerful tool that actively engages both the school and its community in creating a culture of compassion, acceptance, unity and respect.