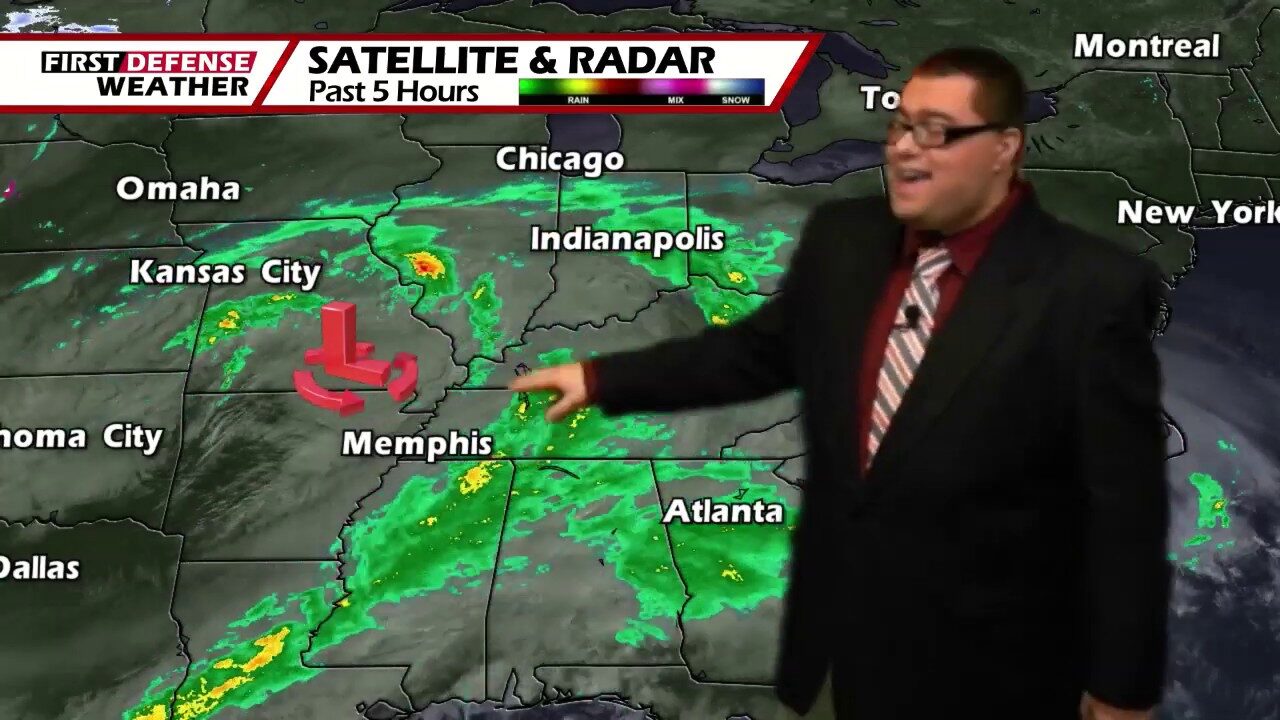 JAMESTOWN – Warmer temperatures and quiet weather continues through the day today but the first of two storm systems that will impact the region will head our way tonight through Wednesday. The second storm has the potential to produce heavy lake effect snow Thursday and Friday.
Clouds will be on the increase from west to east today bringing an end to our several day stretch of sunshine. However, with a southernly wind flow aloft continuing, temperatures will still be above average; 45 on the hills to 53 near the Lake Erie shoreline.
Our first storm system currently centered near Cape Girardeau, Missouri will track to our south through central Pennsylvania.
Rain showers will develop out ahead of the advancing low this evening which may mix with a few wet snow showers overnight in the coldest pockets of the Southern Tier. Morning low temps 33 valleys, 38 shoreline.
Any rain and snow mix will then transition to plain rain showers early on Tuesday and continue in on-again, off-again nature through the day. We will still remain above average with our high temp range 39 to 46.
As the storm pulls away off the Atlantic coast on Wednesday, we will still be stuck in the trailing moisture on the backside of the system. On and off showers will progress through the day with highs in the lower to mid 40's.
The second system will follow right behind with a big shift in the upper air wind pattern bringing much colder air into Western New York.
A potent Cold front will be dragged through the region Wednesday night, changing all of our rain over to snow showers through the nighttime. As it stands now, this will likely be a window of area-wide snow through early Thursday. Highs will only reach the lower 20's through the remainder of the week.
With Lake Erie's ice coverage only around one percent, the lake is wide open for business and that colder air with the front will be enough to fuel the lake effect snow machine.
Bands of localized lake snow will set up shop off the southeastern end of Lake Erie Thursday through Friday with indications suggesting that it could be significant in nature. Please keep in mind that we are several days out and we cannot give you an idea of snowfall projections at this time.
We will start to have a better handle on the lake snow as we go through the week as the better quality high resolution data becomes available.
We stay in the 20's through the weekend with scattered lake flakes from time to time with partial sunshine in between.
WNYNewsNow is a proud Ambassador for the NOAA Weather-Ready Nation program.