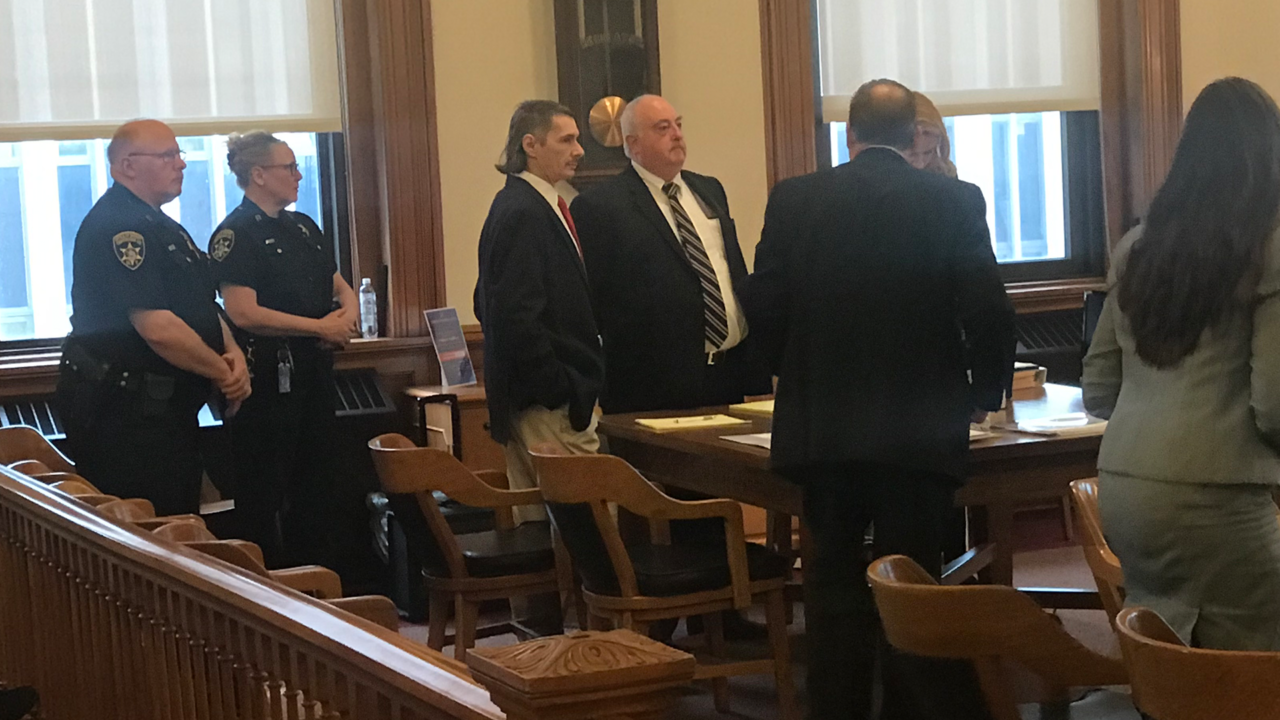 MAYVILLE – "He's (David Waggoner) in the fight for his life, again," Chautauqua County Public Defender Nathaniel Barone said when concluding his opening statement Wednesday morning in Chautauqua County Court.
Waggoner, a Jamestown native, is accused of shooting and killing William J. "Billy" Michishima on Jul. 24. Barone said that his client "chose not to be a victim" but chose to protect his girlfriend of 21 years, Kimberly Johnston, and their young grandson, who were both reportedly at the house located at 114 Livingston Ave. in Jamestown the morning of the shooting.
During his opener, despite the multiple futile objections of prosecutor and Chautauqua County District Attorney Patrick Swanson, Barone described Michishima as an "enraged, violent, convicted" felon who's over six feet tall and weighs significantly more than Waggoner.
Barone said that, the morning of the shooting, Michishima attempted to break into the house. Barone said that Waggoner confronted Michishima without any weapons.  About a week before the shooting, Barone said that Michishima broke into Waggoner's garage to steal his motorcycle, which was legally registered to Johnston.
Michishima rode the motorcycle to a camp on the Seneca Reservation and, according to Barone,  was "running around crazed and off the deep end with no shoes, shirt or helmet." In addition, Barone said that Michishima was armed with a machete. Barone added that Michishima told a woman named April Nelson, "I really messed up this time."
Members of the Cattaraugus County Sheriff's Office, along with Senaca Marshalls, reportedly took Michishima to Jones Hill in Jametown for treatment for being in a "psychotic, depressed, suicidal" state because of a break up and drug abuse. Michishima was released on Jul. 20, four days before the shooting.
Both Barone and Swanson said in their opening statements that an altercation over the motorcycle took place before the shooting. Swanson, however, said, "(Waggoner and Michishima) appeared to engage in a brief scuffle. As one of the men stumbled, the other man, the long-haired man, reached into his pants with his right hand, pulled out a gun, raised it, aimed it and fired one shot into the top of the head of the other man."
"(Waggoner) had no other choice, but to fight for his loved ones and himself," Barone said, often calling the events a matter of "life and death" when addressing the jury.
Swanson said that there were two individuals who witnessed the altercation and subsequent shooting. The DA said that, according to the witnesses, Waggoner didn't hesitate when firing the gun before leaving.  After the shooting, two more people, who didn't see the shooting, observed Waggoner returning to stand over Michishima's body, which was by a motorcycle. According to Swanson, a piece of paper, later disclosed as a motorcycle title, was crumpled in Michishima's hand.
One of the shooting witnesses yelled, "Someone's got a gun," to which Waggoner replied, "There's no f****** gun, there's no f****** gun," according to Swanson. Swanson additionally said that Waggoner told a witness that Michishima tripped and fell during the altercation.
Swanson said one of the witnesses replied by saying, "Sir, this looks a lot more than (someone falling)."
Swanson's opening statement continued, with the county's top prosecutor detailing how Johnston aimed to hide the gun used in the shooting as well as another gun. Swanson, however, said that Jamestown Police Captain Robert Samuelson met with Johnston, who took Samuelson to retrieve the weapons.
"All of this is why we are here," Swanson told the jury. "Use your common sense (when applying law to the facts)."
Michishima was declared brain dead later that day, and he was pronounced deceased the following day, according to testimony from Dr. Eric Vey, a forensic pathologist for the Erie County (Pa.) Coronor's Office. Vey, in addition, said an autopsy was performed on Jul. 26.
Dr. Lauren Donatelli-Seyler, an acute care surgeon from UPMC Hamot, added during her testimony that Michishima exhibited signs of being brain dead at around 4:35 p.m the day of the shooting.
In addition, Danielle Newark from the Chautauqua County Dispatch testified about her experience of receiving the 911 call from one of the witnesses who reported the shooting. Newark was the first witness of the day.
Robert Elderkin of Alstar EMS also testified, and he said he realized that Michishima had a "serious head injury" upon arriving at the scene.
All four witnesses were called to the stand by Swanson.
Judge David Foley, who is presiding over the case, called for multiple recesses over the day to review several issues, including case law over the previous cases in which the defense argued that a killing was justified. Foley, in addition, stated that he was concerned about potential "character assassination" of Michishima following Barone's opening statement.
Foley, on multiple occasions, also told and reminded the 12 jurors of court rules and procedures.
The trial will resume at 9:30 a.m Thursday morning in Chautauqua County Court. WNYNewsNow will be in court to cover the proceedings.