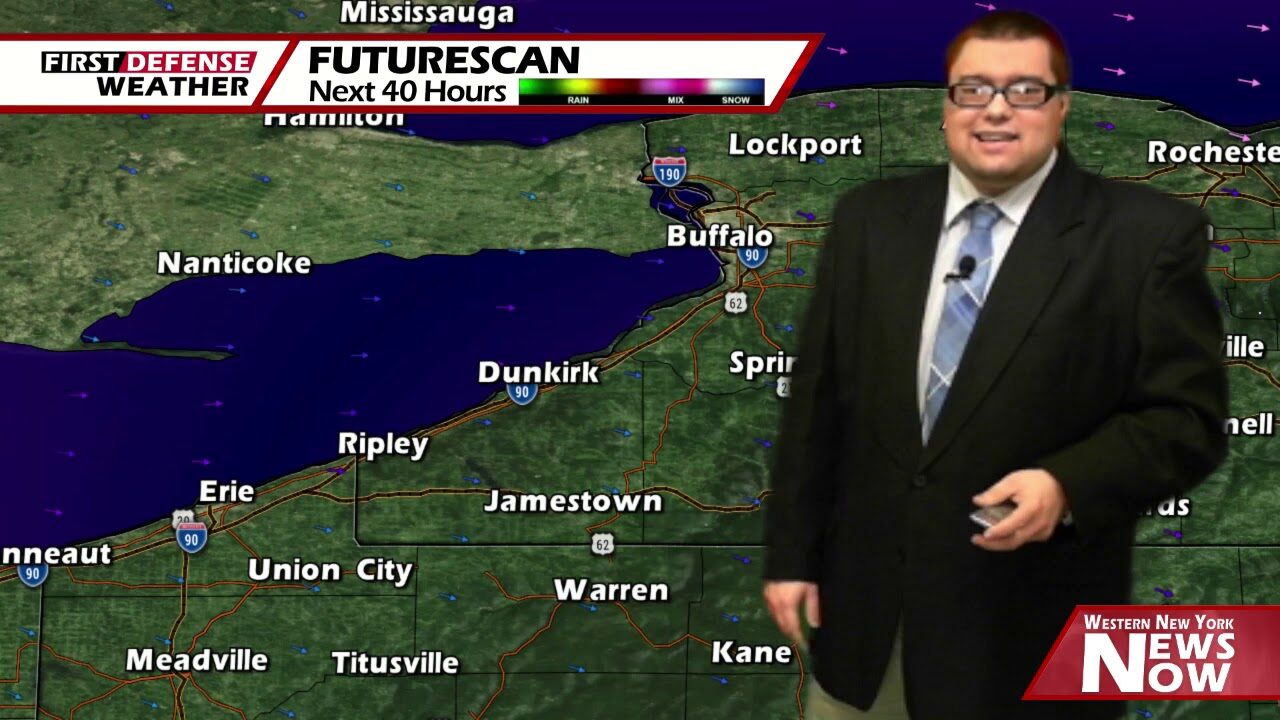 App users, tap here to watch video
JAMESTOWN – While things might be dry out there for today, do not expect that to last long as the first of a couple storm systems moves through tomorrow with more precipitation for the weekend.
Earlier today, we had some periods of Lake Ontario generated snow impacting areas northward. That has all came to an end with partial breaks in the overcast. The winds will still be up a bit today with gusts around 30 MPH at times. Highs 33 on the hills to 38 at the Lake Erie shoreline.
Our first storm system will inch its way closer to the region tonight spawning off a few rain and snow showers overnight. Any accumulation will be minor with an inch or less along the higher terrain. Lows 27 valleys, 34 lakeshore.
As the low continues its march southward of our area through Pennsylvania, rain showers will likely be the story for the afternoon on Thursday. Highs 48 to 55.
We will still be wrapped up on the backend of the air flow associated with that storm as it moves off the Atlantic east coast on Friday. Lingering showers will be possible through the day with some partial sunshine at times. Highs in the upper 40's.
Our second storm will take an initially similar track to the first with scattered on again, off again showers on Saturday. We'll spike into the mid to upper 50's across much of the area.
After reaching the coastline, indications have been pointing to the storm taking a northeasterly turn and ridding along the East Coast over into early next week. Given this idea, the better chance for widespread rain will be on Sunday along with a return of some windy conditions. Highs in the mid 40's.
We will stay in the refrigerator into early next week with a few scattered rain showers and highs in the lower 40's on Monday.
A mainly dry day will come our way Tuesday due to a very brief area of high pressure moving in. Highs in the mid 50's.
WNYNewsNow is a proud Ambassador for the NOAA Weather-Ready Nation program.