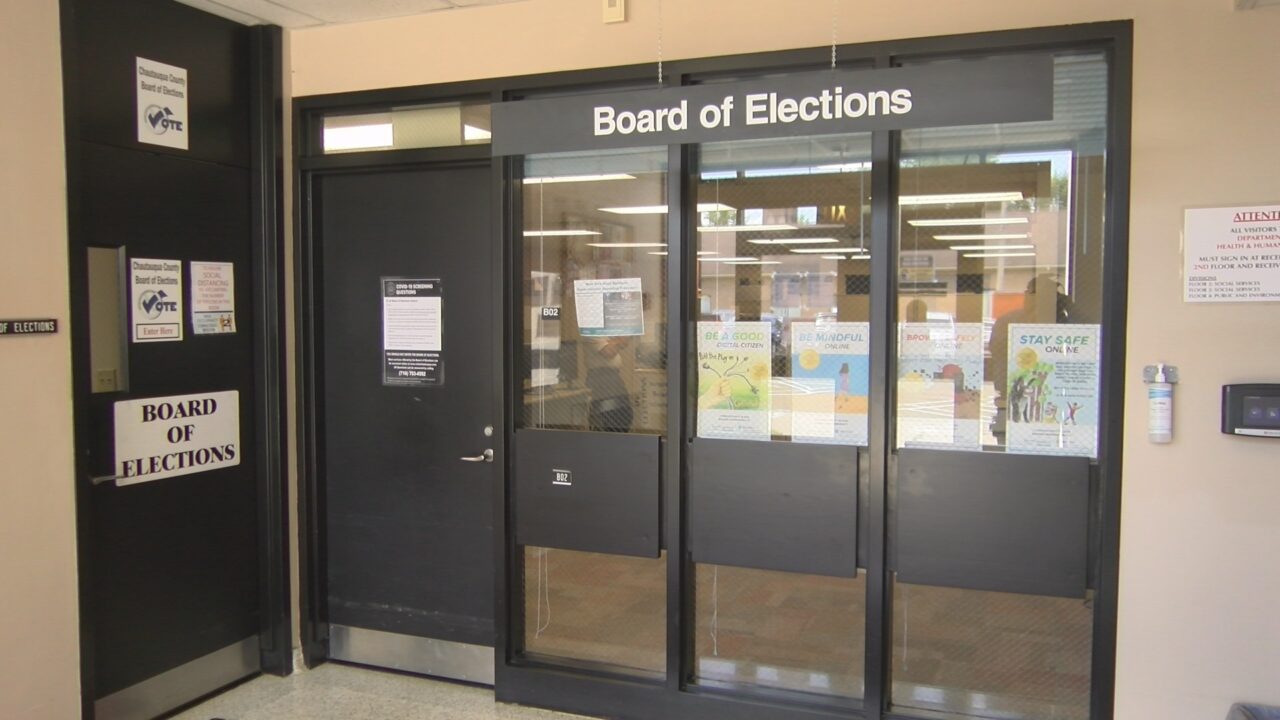 App users, tap here to watch video report.
MAYVILLE — Vote early. Vote absentee ballot. Vote in person. Just Vote. That's the take of the Chautauqua County Election Commissioners.
Democratic Commissioner Norm Green and Republican Commissioner Brian Abrams explained to WNYNewsNow that voters have more options than ever to participate in this fall's election.
"As long as they vote," Abrams said. "We're trying to accommodate them to their level of participation."
He said there are three option for area voters. They have a nine-day vote early option, an absentee ballot option and the polls will be open 15 hours on election day for traditional in person voting.
"We'll do whatever we have to to make sure the people get the opportunity to vote," Abrams said.
The Board of Elections is taking every possible safety precaution for voters and election workers, the commissioners explained.
They urge in person voters to use a mask and one will be provided if needed. There will also be hand sanitizing stations, the practice of social distancing and the site will be thoroughly cleaned throughout the day, Abrams said.
Thus far the county has received about 2,800 absentee applications, which is about half the normal number, Green said. He expects upwards of 10,000 absentee ballot applications this year because of people's concerns about COVID-19.
"The best thing is (to) apply now, get your ballot early and reply as soon as you can," Green said.
Both men said the higher number of absentee voters this year will have an impact on results, especially in closer races.
"Ten thousand, that's a lot of absentees in a race that could be only two or 3,000 votes apart," Abrams said.
Green said absentee ballot will make the difference in many races this fall.
"The absentees are probably going to be the difference. It appears that more Democrats are going to vote absentee than the Republicans," Green said. "On election night, if the Democrat is behind and it's close, they still have some hope."
While the change in voting would have been implemented better had they been phased in, the COVID-19 pandemic didn't allow for that.
"You're doing a conversion of a process and you're not phasing it in which would be the better process," Abrams said. "That process is now a delayed process with more labor involved after the fact. It is different."
Both men praised the staff at the County Board of Elections, saying the workers take ownership of their duties to ensure a fair and thorough election and vote counting process.
"They're drinking the kool aid," Green joked. "They believe in the system. They believe in what we've developed."
"We could be the best elect commissioners in the world, but if they're not the best, nothing happens," Green said of the Board employees.
Voting optical scanners and the entire process is triple checked for function and security, Abrams and Green said.
"Regardless of how they feel, they've got to feel the system is here for them," Abrams said. "However they feel is there best method to vote, as long as they vote."