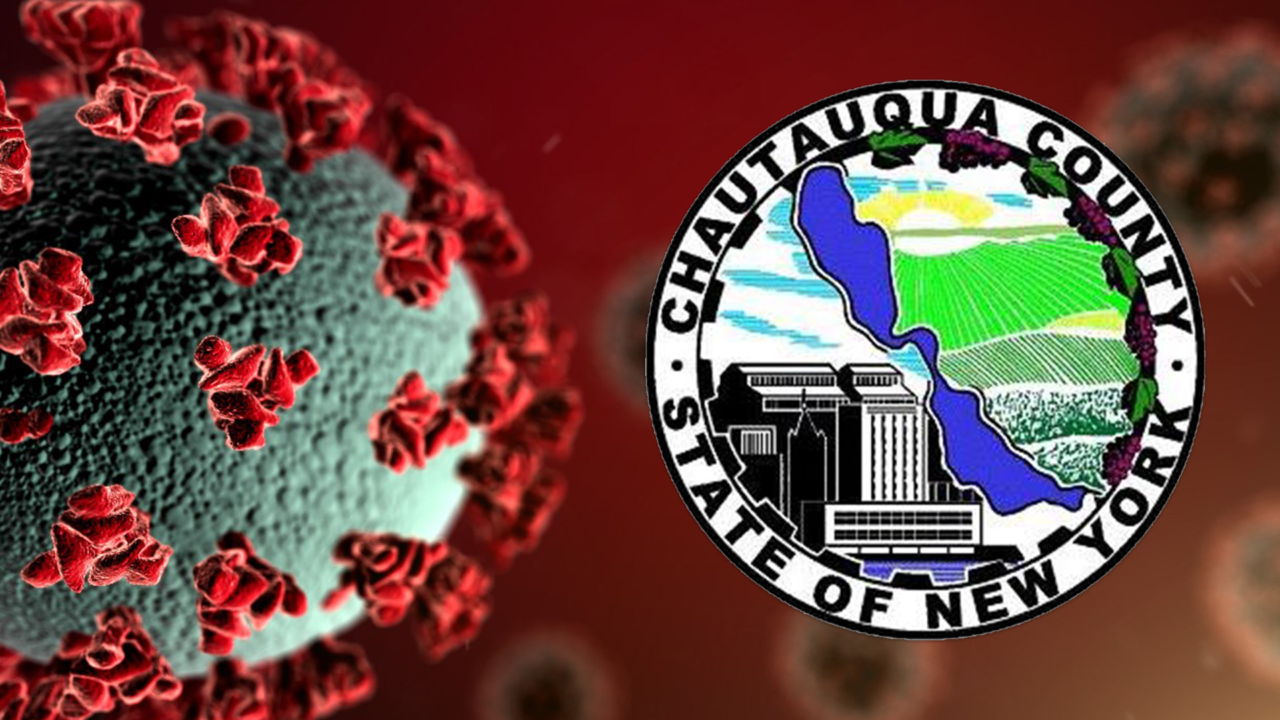 MAYVILLE – Chautauqua County officials have released COVID-19 statistics for the month of October along with Friday's daily update which includes one new COVID-19 related death.
On Friday, Chautauqua County reported 22 new positive COVID-19 cases. Of those new cases, six were in Jamestown, four in Fredonia, three in Silver Creek, three in Dunkirk, two in Dewittville, two in Sinclairville, one in Ashville, and one in Sheridan. This brings the total number of confirmed cases to 1,060.
142 cases remain active with four active cases among employees of Tanglewood Manor while 15 cases among residents remain active.
County Health officials have identified at least 21 linked cases related to a wedding in the North County. Nine of those cases are currently active and there have been 12 recoveries. Officials have also identified 17 cases related to social clubs in the Dunkirk area. Six of those remain active and 11 have recovered.
There currently remain seven active cases among employees of the Jamestown Fire Department.
There are 22 people hospitalized in the county with one new COVID related death; a man in his 70's with underling health conditions.
Officials said with a total number of confirmed cases up to 1,060 since March, 0.8 percent of the counties population have tested positive for COVID-19.
With schools and colleges back in session, businesses reopening, and colder weather approaching, residents are spending more time indoors and more time with other people. Spending time indoors with non-household contacts and without masks are key elements to the spread of COVID-19 officials said.
"We've seen clusters related to a bridal dinner, a wedding, frequenting social clubs and bowling alleys. We're seeing disease spread amongst households, group homes, health care facilities, co-workers and in places of business mainly because of activities that people partake in outside of work" said Christine Schuyler, Chautauqua County's Public Health Director. 
"COVID-19 is here and everyone needs to take personal responsibility for not spreading it. Wear a mask, keep your distance, wash your hands, and stay home if you're not feeling well."
Officials said unannounced inspections of bars, restaurants, clubs, and other venues throughout Chautauqua County will continue.  Owners, operators and patrons may be subject to fines up to $15,000 for violating public health orders and regulations.

"Now is not the time to think you're invincible or to ignore the rules," said Schuyler. "We all want to get back to "normal" but that will not be possible until more measures are in place to control the spread of this virus."
From October 1 to October 30, 389 cases were reported, equating out to 37 percent of all cases to date since March. Free COVID-19 rapid testing clinics were held throughout this week in Jamestown and Dunkirk. From Monday to Thursday, 41 people tested positive for COVID-19 out of a total 908 tested; a 4.5 percent positivity rate. Results from the Friday testing will be available next week.

County officials said these mass testing clinics have nearly exhausted available rapid testing supplies. There will be no free public testing events held by the County Health Department during the week of November 2 while officials wait for the delivery of additional testing supplies.