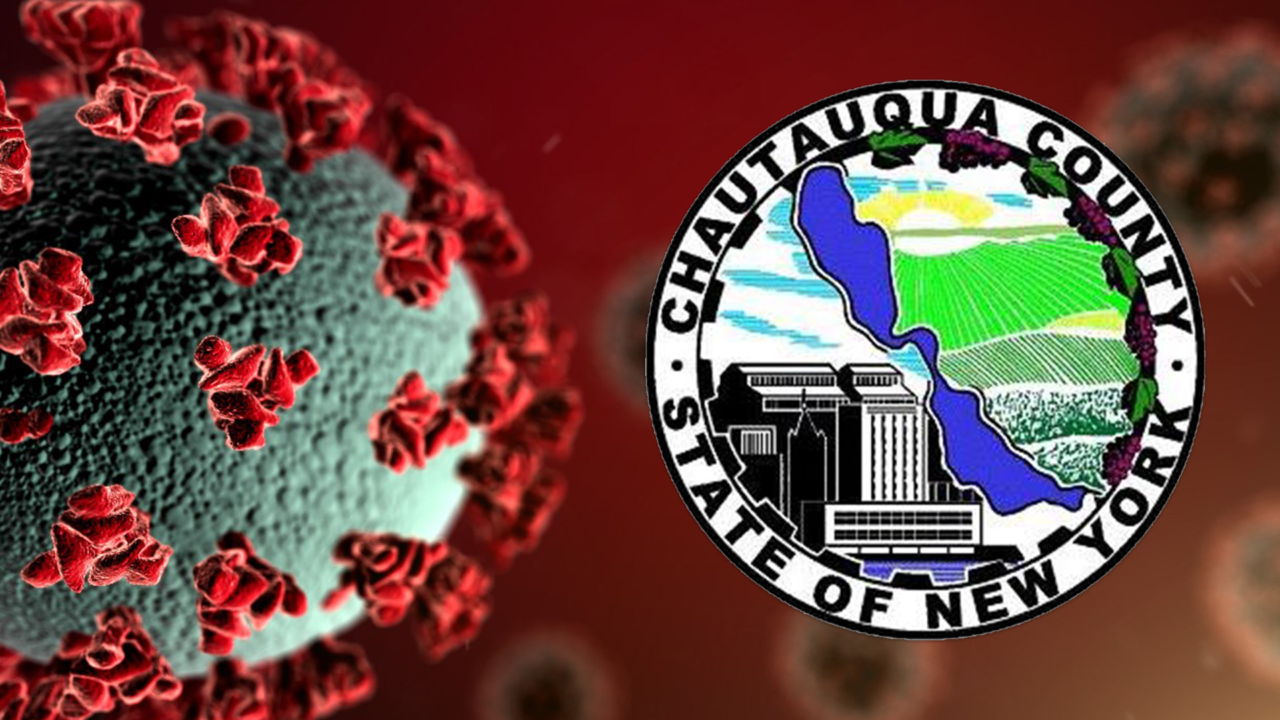 MAYVILLE – The Chautauqua County Health Department reported 110 new cases of COVID-19 on Friday afternoon.
Officials in an update to the online COVID-19 Dashboard say there is now 441 active cases.
Of the new cases, 28 were reported in Jamestown with 100 active. Twenty-seven of the new cases were reported in Mayville with 69 active there.
Health leaders say there are currently 23 people hospitalized in the county with a seven-day average percent positivity rate of 6.3%, up slightly from 6.2% on Thursday.
To date there have been 2,303 cases of the virus with 1,840 recovering and 22 reported deaths.
A full breakdown of Friday's update is posted below. The next COVID-19 update is expected on Monday.
COVID-19 Cases by ZIP Code of Residence
| | | | | | |
| --- | --- | --- | --- | --- | --- |
| Zip Code | New Cases | Active Cases | Active Case Rate (per 100,000 residents) | Total Cases | Percent of Total Cases |
| 14048- Dunkirk | 1 | 34 | 239.8 | 412 | 17.9% |
| 14062- Forestville | 1 | 14 | 431.0 | 51 | 2.2% |
| 14063- Fredonia | 7 | 46 | 313.4 | 378 | 16.4% |
| 14081- Irving | 0 | 7 | 223.6 | 21 | 0.9% |
| 14136- Silver Creek | 4 | 20 | 439.5 | 106 | 4.6% |
| 14138- South Dayton | 0 | 1 | 49.9 | 10 | 0.4% |
| 14701- Jamestown | 28 | 100 | 251.7 | 587 | 25.5% |
| 14710- Ashville | 0 | 1 | 30.6 | 25 | 1.1% |
| 14712- Bemus Point | 2 | 18 | 566.4 | 76 | 3.3% |
| 14716- Brocton | 0 | 5 | 182.1 | 38 | 1.7% |
| 14718- Cassadaga | 1 | 4 | 201.2 | 22 | 1.0% |
| 14720- Celoron | 0 | 0 | 0.0 | 3 | 0.1% |
| 14722- Chautauqua | 0 | 0 | 0.0 | 0 | 0.0% |
| 14723- Cherry Creek | 1 | 6 | 543.5 | 19 | 0.8% |
| 14724- Clymer | 8 | 15 | 635.3 | 50 | 2.2% |
| 14726- Conewango Valley | 0 | 0 | 0.0 | 1 | 0.0% |
| 14728- Dewittville | 0 | 0 | 0.0 | 14 | 0.6% |
| 14733- Falconer | 2 | 15 | 390.2 | 55 | 2.4% |
| 14736- Findley Lake | 0 | 0 | 0.0 | 8 | 0.3% |
| 14738- Frewsburg | 6 | 16 | 492.8 | 52 | 2.3% |
| 14740- Gerry | 1 | 1 | 92.7 | 6 | 0.3% |
| 14747- Kennedy | 4 | 7 | 318.0 | 17 | 0.7% |
| 14750- Lakewood | 10 | 24 | 535.4 | 79 | 3.4% |
| 14757- Mayville | 27 | 69 | 2092.2 | 95 | 4.1% |
| 14767- Panama | 0 | 2 | 93.2 | 16 | 0.7% |
| 14769- Portland | 0 | 1 | 98.7 | 16 | 0.7% |
| 14775- Ripley | 4 | 9 | 355.7 | 31 | 1.3% |
| 14781- Sherman | 1 | 5 | 239.3 | 27 | 1.2% |
| 14782- Sinclairville | 1 | 10 | 410.7 | 27 | 1.2% |
| 14784- Stockton | 1 | 2 | 192.3 | 19 | 0.8% |
| 14787- Westfield | 0 | 9 | 189.9 | 42 | 1.8% |
| Total | 110 | 441 | 340.2 | 2303 | 100.0% |
COVID-19 Cases by Known Age
| | | |
| --- | --- | --- |
| Age | Number | Percent |
| 0-19 | 313 | 13.59% |
| 20-29 | 452 | 19.63% |
| 30-39 | 290 | 12.59% |
| 40-49 | 314 | 13.63% |
| 50-59 | 312 | 12.46% |
| 60-69 | 287 | 12.46% |
| 70-79 | 162 | 7.03% |
| 80-89 | 81 | 3.52% |
| 90+ | 32 | 1.39% |
COVID-19 Cases by Presence of Symptoms at Time of Interview
| | | |
| --- | --- | --- |
| Symptoms | Number | Percent |
| Yes | 1005 | 78.03% |
| No | 283 | 21.97% |
| Symptoms Known | 1288 | |
Fatality Rate by Age Group
| | | |
| --- | --- | --- |
| Age Group | Total Deaths | Fatality Rate |
| All Ages | 22 | 0.96% |
| 0-39 | 0 | 0.00% |
| 40-49 | 2 | 0.64% |
| 50-59 | 2 | 0.64% |
| 60-69 | 3 | 1.05% |
| 70-79 | 7 | 4.32% |
| 80-89 | 7 | 8.64% |
| 90+ | 1 | 3.13% |
NYS Fatality Rate: 4.86%
US Fatality Rate: 1.9%
Source: John Hopkins University COVID-19 Tracker 12/9/2020