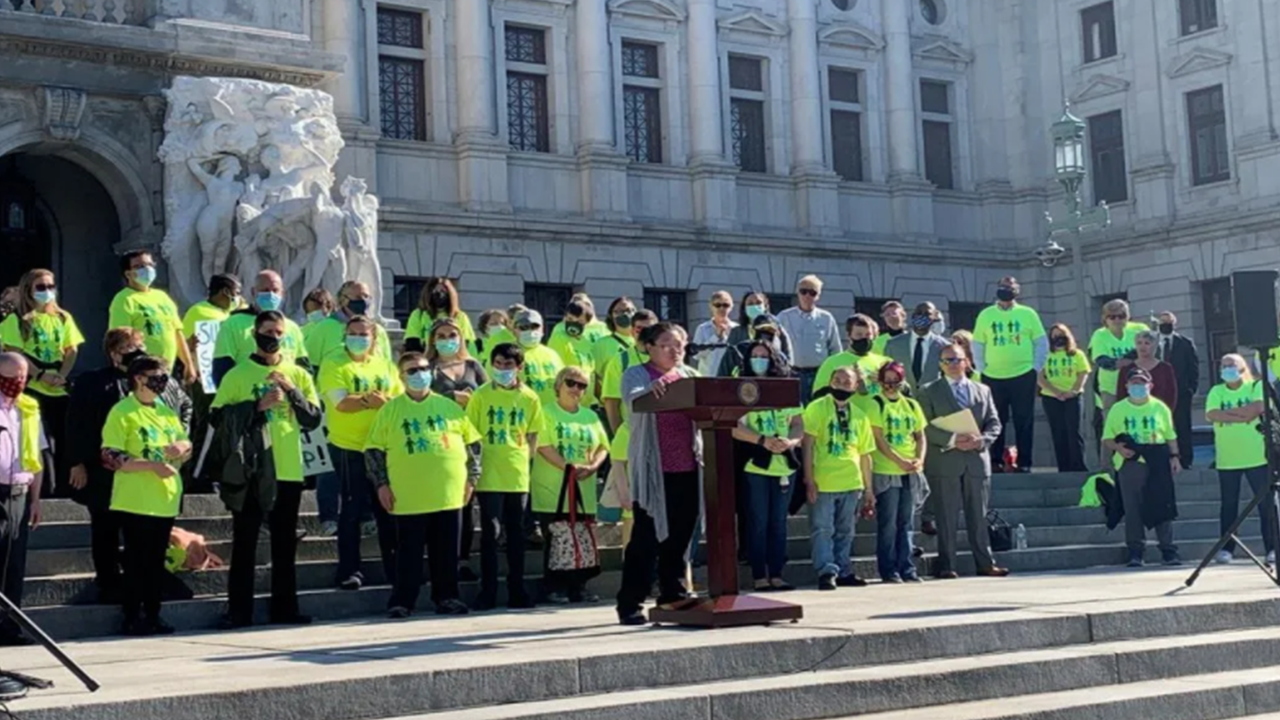 HARRISBURG (Erie News Now) – Direct support professionals (DSP) and intellectual disability support advocates rallied on the front steps of the Pennsylvania Capitol Monday.
Advocates say direct support professionals and intellectual disability support have been understaffed and underfunded for decades.
The COVID-19 Pandemic did not help.
Now dealing with extreme staffing shortages, organizations like the Arc of Cumberland and Perry Counties are struggling to keep already exhausted staff.
"We had to close down two of our community homes and we did that in order to sure up the staffing. We have staff working 70–80-hour work weeks. They're quitting because they're burned out and under paid, and who could blame them," said Anne Couldridge, Executive Director at the Arc of Cumberland and Perry Counties.
Couldridge says rising costs each year have created hurdles for her organization and colleagues.
"Every year, the cost to do business increase. Healthcare, liability insurance. We still are a business and so we cannot make any significant investment into staff wages without the funding from our state government," said Couldridge.
Mark Davis is the President & CEO of Pennsylvania Advocacy and Resources for Autism and Intellectual Disability. He said families are also struggling.
"We have family members now who typically would have their loved one go to day services and then be able to go to work, do other things, and then pick them up. They can't do that now because they have to be at home and they've got nowhere to go," said Davis.
Claire Crego is a self-advocate, who thrives with the Arc of Cumberland and Perry Counties. Without Arc, and caring direct support professionals, Claire would be limited in her day-to-day life.
"If I didn't have staff, I would not have the same freedom as everybody else," said Crego. "We need money now so I could have the staff I need to live a life of freedom," added Crego.
"We're really looking for two asks. We're looking for short-term relief just for this year. We're asking for $540 million from the American Rescue Fund that the state received and is sitting on," said Couldridge as she explained what needs to be done.
Speakers at today's rally say the $540 million is serving as a "rainy day" fund and is a small piece of the total funds the Commonwealth received from the American Rescue Plan.
They say that if the Commonwealth continues to sit on the funds, Pennsylvanians like Claire will have to continue making sacrifices in the meantime.