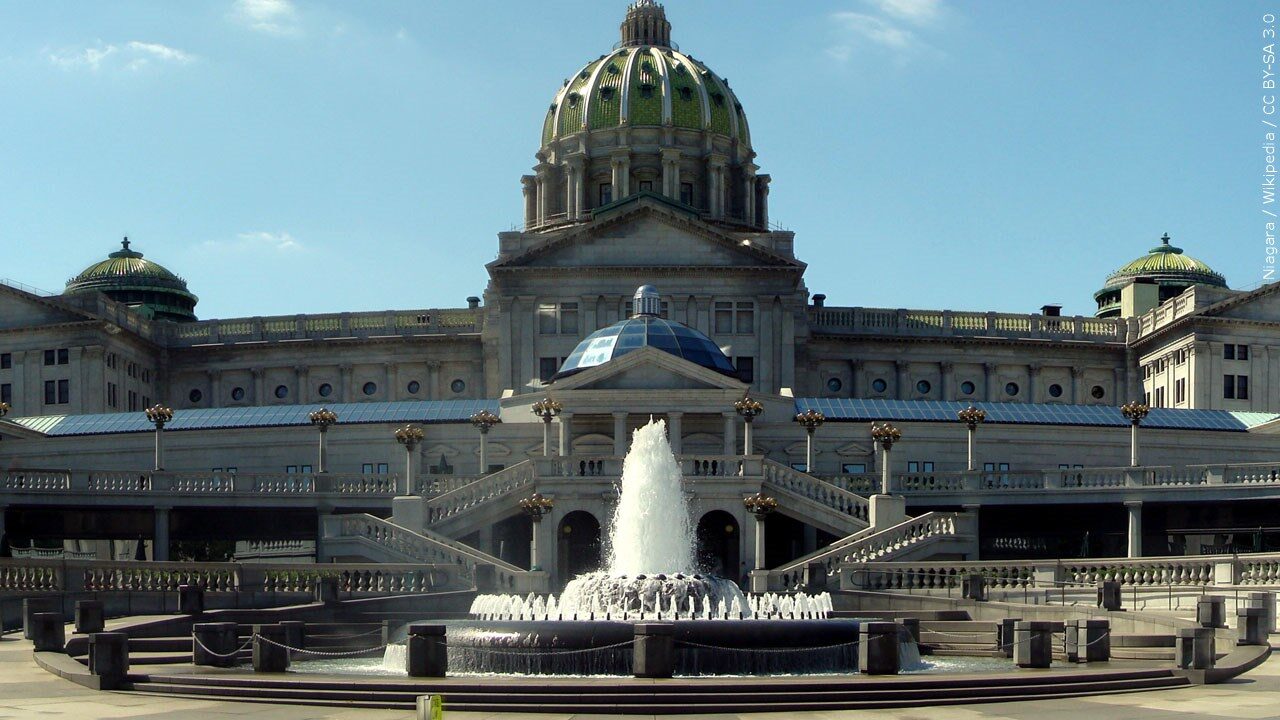 HARRISBURG, PA. (WENY) – From rural broadband enhancement, to the distribution of American Rescue Plan dollars, 2021 was certainly a busy year for Pennsylvania state lawmakers.  
House Majority Leader, Rep. Kerry Benninghoff (R-Centre/Mifflin) and Minority Leader, Rep. Joanna McClinton (D-Philadelphia/Delaware) shared their thoughts on 2021, as well as what they're looking ahead to in 2022.  
Both leaders were proud of significant education advancements throughout the commonwealth.  
"It included $100 million for Level Up, which is a program that drives funding to the poorest school districts across the commonwealth," said Minority Leader McClinton  
"We made some significant investments in education last year, both K-12, pre-k and higher education," said Majority Leader Benninghoff.  
Benninghoff and McClinton continue to lead their respective parties in the House as the COVID-19 Pandemic continues to present challenges throughout the commonwealth.  
Both caucuses have different opinions on things like spending federal COVID relief and repairing the economy.  
House Democrats believe more federal funding that the commonwealth received can be used to help communities and industries throughout Pennsylvania right now. They drafted a plan to distribute the funds.  
"Our proposal only spends a small fraction of the $7 billion we were provided from the federal government," said McClinton.  
The proposal, or the Pennsylvania Rescue Plan, was unveiled by House Democrats last spring.  
"Where we laid out priorities to be able to give hazard pay to our front-line workers that have not received it for two years, we've laid out other priorities to be able to make sure that there's paid sick leave for people who need to quarantine, that we have ability to promote affordable housing, economic growth, expand the property tax rent relief program," said McClinton.  
Many of the relief dollars were distributed to those in need, however there are still remaining funds. The Republican majority is hesitant to spend the funds, saying it's important to be prudent and prepared for the future, especially in uncertain times.  
"We also additionally put some money in the rainy-day fund, to put some money aside not knowing where this year's budget is going to go," said Benninghoff. "At the end of the day, you've got to be prudent and plan for the future. Nobody saw the pandemic affecting our economy as fast and as vastly as it did," he added.  
McClinton and House Democrats disagree and say now is the time for the rainy-day fund.  
"It's raining now in so many communities across Pennsylvania, on small businesses and on people who are having a hard time," said McClinton. "We have a responsibility to respond to that crisis. We cannot wait to see what the future holds."  
Despite philosophical disagreements over many issues, like spending, House Democrats and Republicans have been able to work in a bipartisan manner to pass legislation in 2021.  
"Pushing 280 bills throughout the legislative session this first year, I would guess that 92 to 93-percent of those were done in a bipartisan manner," said Benninghoff.  
They also agree that other priorities exacerbated by the pandemic, like mental health and substance abuse, need to be addressed.  
"We've been in a crisis with the opioid epidemic and overdoses for the entirety of Governor Wolf's time in office. So that is a crisis that unfortunately continues to grow even as we're fighting COVID-19," said McClinton.  
"Throughout the pandemic, we saw a lot of people elevating in some of their problems with mental health. We saw substance abuse continue to be a problem. Sadly, we're still losing 14-15 people a day," said Benninghoff.   
Both leaders say economic recovery will be at the forefront in 2022, but the road to recovery may stir debate among the caucuses.  
Democrats released a new blueprint called "Propel PA" in the fall, which they say would boost the state's economy while preparing for the future.   
"We want to make sure that the Keystone State is where businesses are planted and where they grow," said McClinton.   
McClinton says job training and other programs may be necessary as more people return to the workforce.  
"We want to make sure that the workforce is ready to go back to work. How many folks have been telling us that they don't have people who are ready to work? So that means some folks, may need training programs," said McClinton.  
Republicans say the labor shortage is largely due to extended government relief, causing businesses to compete with the government for employees.   
Benninghoff says in order to achieve a full economic recovery, Pennsylvanians have to want to work and want to earn a paycheck. He adds that stringent regulations, higher taxes, and more government spending will not address the root cause of the issue.  
"I want Pennsylvania to grow, thrive, grow so many darn jobs that the other states are just envious of this," said Benninghoff. "I want Pennsylvania to be the envy of the East. We've got a lot to offer. We've got a great geography, topography, educational system. And I want people to say that jobs in Pennsylvania, they're on fire and they're growing," added Benninghoff.