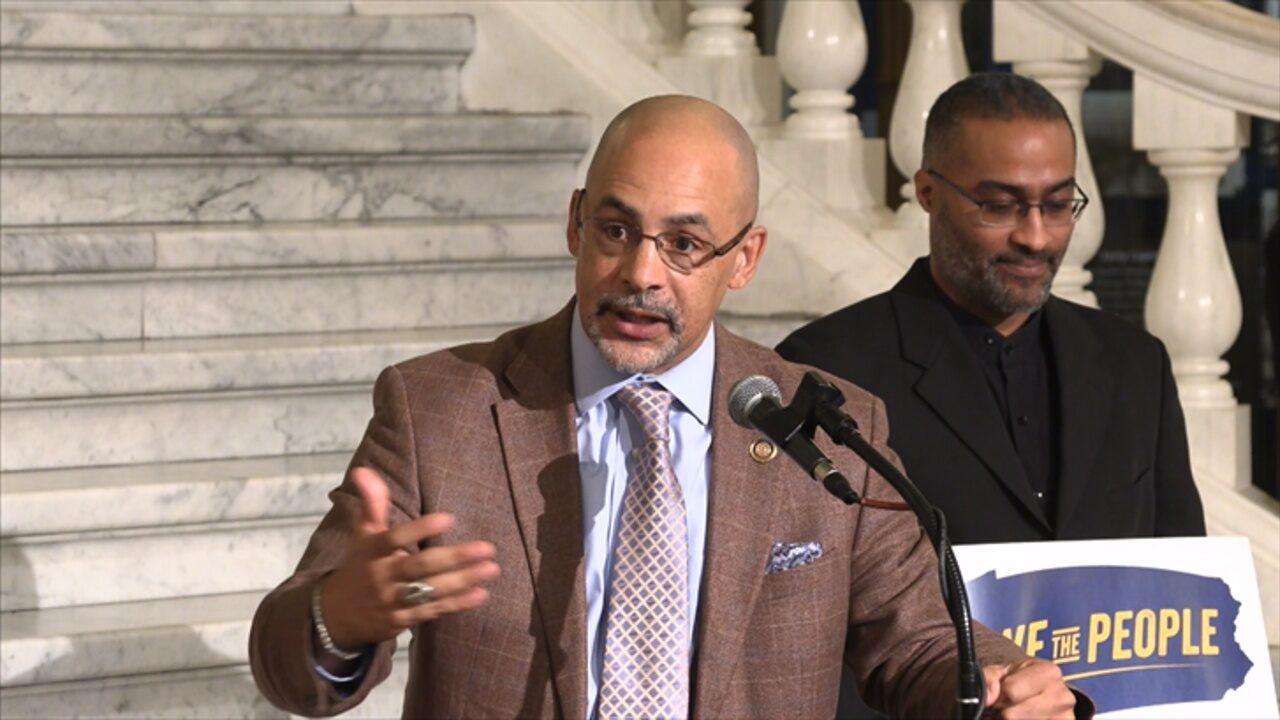 HARRISBURG, Pa. (Erie News Now) – Pennsylvania still has over $1 billion of American Rescue Plan Act (ARPA) funds from the federal government. 
The debate among Democrats and Republicans is whether to spend or save the remaining federal ARPA dollars- a debate that has been happening for months.
This morning on the stairs inside the Capitol, Democrat lawmakers and advocates from the Pennsylvania Budget and Policy Center, outlined what they think should be done with those remaining dollars.
"Give it back to the people. We the people," said Representative Chris Rabb (D-Philadelphia).
Democratic lawmakers, like Rabb, are calling for direct payments to help consumers with rising costs.
"The hardships are mounting for Pennsylvania families, small business owners, fire companies, civic organizations. It's a rainy day," said Senator Tim Kearney / (D-Chester/Delaware)
With more than $2 billion in the commonwealth's rainy-day fund, leftover ARPA funds, and a surplus in the general fund, Democrats say it's time to provide direct payments for Pennsylvanians.
"We know it's been raining," said Representative Joe Hohenstein (D-Philadelphia). "And we know we have a rescue plan," he added.
"The best way to help people deal with high prices, including gas prices, is with cash," said Rabb.
Cash, or direct checks like the $250 per-registered vehicle as a gas tax rebate, which was outlined this morning in the plan, and is also one of the components to the Shapiro-Davis plan.
Attorney General and 2022 candidate for Governor, Josh Shapiro and Lieutenant Governor candidate, Representative Austin Davis (D-Allegheny) first announced the $250 gas tax rebate last week as part of their three-part plan to reduce the burden of rising costs, if elected.
"The Legislature should help our families right now and pass this plan," said Davis.
Rabb says the funds would also provide critical relief through grants, rebate expansions and funding of other critical elements.
"We're giving it to local businesses. You know, that's childcare providers, farmers, restaurateurs," said Rabb.
However, Republicans say they'll continue to be fiscally responsible with the funds.
"We're still facing economic uncertainty, relative not only from COVID, but also failed Democratic policies coming out of Washington, D.C., and the situation ongoing in Ukraine," said House Republican Caucus Spokesperson Jason Gottesman.
Gottesman adds that rising gas prices are largely due to Democratic energy policies and that direct payments are not a good use of taxpayer dollars.
"By spending taxpayer money imprudently and not focusing on the ways we have here to grow our economy and export energy and security through energy independence, just shows how backward the thinking is," said Gottesman. "The effect on the energy market today is a direct result of President Biden and Tom Wolf not doing enough to jumpstart Pennsylvania Energy," he added.
Pennsylvania has until the end of 2024 to spend the leftover ARPA dollars. Gottesman says that's two fiscal years away and that his party is in no rush to spend it all.
"There's $1.7 billion that's remaining and was put aside purposely to guard against future tax increases or government cuts. And that's something which we want to stick with as we're going through the budget process," said Gottesman.