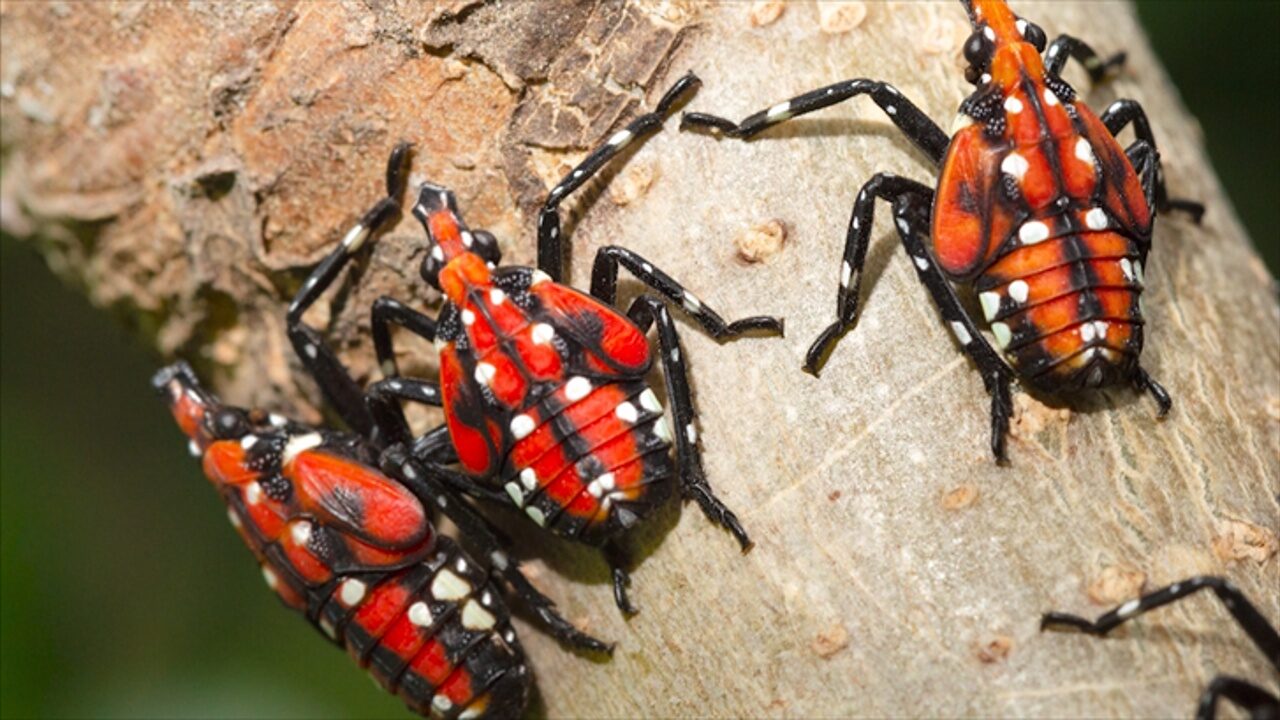 HARRISBURG, Pa. (Erie News Now) – An unwelcome summer guest is making its way across Pennsylvania once again. 
The Spotted Lanternfly (SLF) is about an inch-long black, red, and white insect native to southeast Asia. It was first identified in Pennsylvania in 2014. The lanternfly feeds on agricultural commodities produced in the state such as grapes, tree fruit, and hardwoods and can be detrimental for plants, local eco-systems, and native species.
According to the Department of Agriculture, the SLF excretes honeydew, a sugary waste that attracts bees, wasps and other insects and this waste builds up on any surface below the SLF. The build-up of waste also leads to the growth of sooty mold and black-colored fungi. Officials say it basically smothers the plants, blocking photosynthesis.
"We have seen the impacts on the timber industry, in the grape industry, and the ornamental horticulture aspects. We have seen it across the state in all types of communities," said Pennsylvania Agriculture Secretary Russell Redding. "As much as we know about the spotted lanternfly, there's also a lot that we don't know, and we continue to learn every season about this invasive pest," he added.
An economic impact study estimates, if uncontrolled, the insect could cost the state $324 million annually and over 2,800 jobs.
Wednesday, the PA Department of Agriculture shared some tips on how to trap and kill the invasive insect, which may try to deceive you with its vibrant colors. Officials warn not to be fooled by its appearance.
"Everyone has a role to play, especially as Pennsylvanians travel for vacations. We ask you to remain vigilant and continue to look before you leave," said Redding.
Officials say it's still early for full-grown lanternflies, which are typically found in larger numbers during the late-summer and fall months. Currently, lanternflies are in the third and fourth "instar phase."
"We're right in between the third and fourth instar phases, so when you see them out in the world, you're going to see the black and white version as well as the red version," said Jay Losiewicz a specialist with the Department of Agriculture who works to control the invasive pest. "In the next month or so, they will turn into adults."
Despite developing wings as adults, lanternflies are not frequent fliers. They're more like hitchhikers.
"It is an opportunist," said Redding. "The spotted lanternfly has moved across the turnpike, major thoroughfares and the rail yards. That is the problem, it's in nine states and 45 counties here in Pennsylvania," Redding added.
The insect is known to frequently hop onto cars, trucks, and trains as it makes its way sometimes hundreds of miles from its original location. Increased reports of the insect, which originated in southeastern Pennsylvania, have led to a spotted lanternfly quarantine in over 40 counties, eleven of which have been added just this year.
"I'm surprised, myself, that it's not in every county, everywhere and overwhelming us, giving where it was in 2015 in Berks County," said Redding.
Officials advise those who find spotted lanternflies on their property to trap and squish them. They say using a circle trap is one of the most effective ways to target lanternfly populations without harming native or non-invasive insects. Penn State Extension's website includes instructions for making your own circle trap using easily obtainable items including plastic milk jugs, duct tape, screen wire, twine, hot glue and gallon-sized food-storage bags. Traps can also be purchased through agriculture and nursery supply stores.
If you spot a lanternfly, officials say to report it online, or call: 1-888-4BAD-FLY (1-888-422-3359)