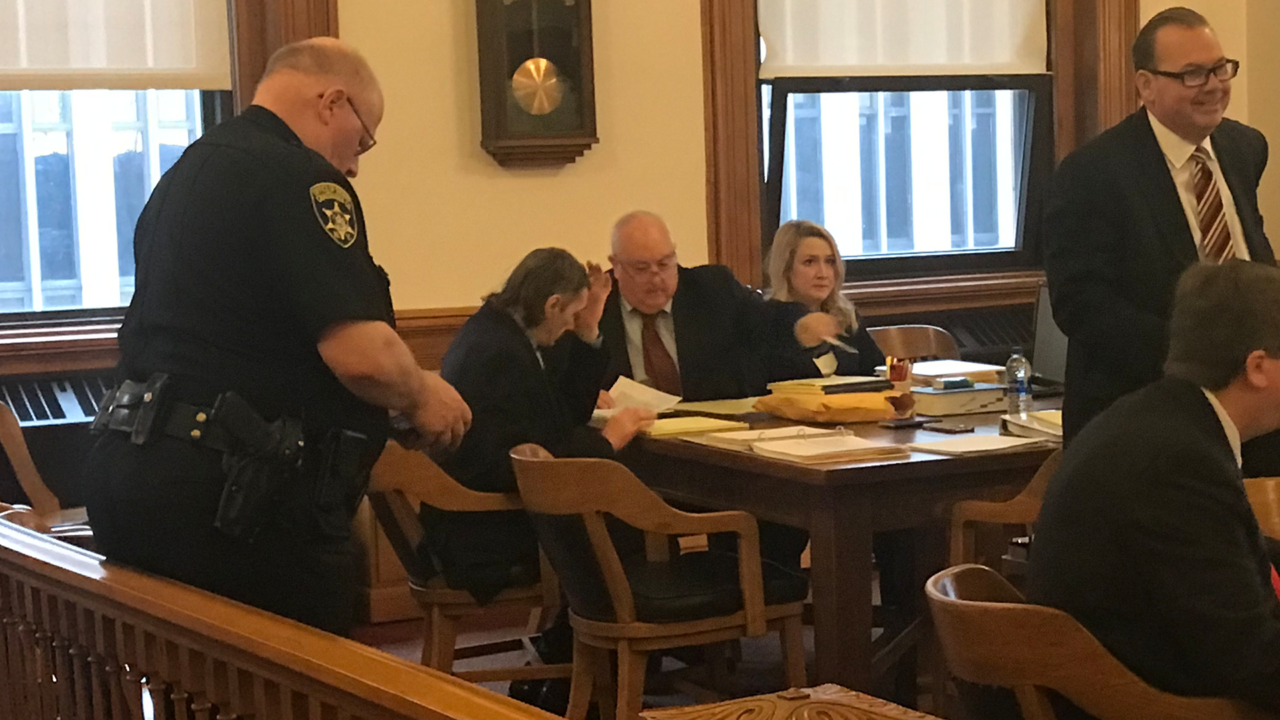 MAYVILLE –  A video clip containing Jamestown Police Captain Robert Samuelson's interview of David F. Waggoner the morning of Jul. 24 highlighted Friday's proceedings for the Waggoner murder trial in Chautauqua County Court.
In the clip, introduced as evidence by Chautauqua County District Attorney Patrick Swanson in its entirety, Waggoner described details leading up to him allegedly shooting and killing William Michishima outside of Waggoner and companion Kimberly Johnston's house on 114 Livingston Ave. Waggoner told Samuelson that Michishima refused to leave the couple's property when he asked him to.
(Prior to the interview, Samuelson read Waggoner his Miranda rights. In addition, Samuelson told Waggoner that he was unaware of Michishima's condition when the interview began.)
Waggoner said that Michishima had the title to his bike, and was going to give his bike to Waggoner after he said he burnt Waggoner's prior to Jul. 24. Waggoner told Samuelson that a blue, four-door vehicle passed the two during their discussion. According to Waggoner, a passenger to the vehicle yelled, "F*** you, Billy." After that, Waggoner told Samuelson that Michishima punched him in the face when he looked towards who was yelling.
"I'll f*** tear you up" are the words that Waggoner claimed Michishima said prior to the alleged altercation. Waggoner said that his response was, "You need to get the f*** out."
Waggoner added that Michishima tripped, fell and hit his head during the altercation.
Waggoner also detailed during the interview how Michishima told him that he had Waggoner's permission to take his motorcycle when Waggoner went to confront Michishima on Jul. 23rd. At that point, Michishima was sitting at Johnston's place of work on Prendergast Avenue.
The Jamestown man said that he first met Michishima weeks prior to the shooting when Michishima came to Waggoner's place of work. Waggoner detailed how Michishima told him that he was trying to restore his reputation in the community and gain a fresh start. Over time, however, Waggoner told Samuelson that he was becoming "stranger and stranger." In addition, Waggoner stated Michishima was smoking meth.
"Why would he pick me?… He's a f*** maniac, he's a f*** menace to society," Waggoner said.
The interview took a turn when Samuelson began to question Waggoner about the shooting, as well as him allegedly giving two separate firearms to Johnston for disposal.
"I did not shoot him (Michishima)," Waggoner said. "You're not going to get me to admit" to the shooting. In addition, Waggoner told Samuelson that he wouldn't involve Johnston. "I'm not trying to have you admit to s*** right now," Samuelson replied. Later, when Waggoner again denied shooting Waggoner, Samuelson said, "Dave, you shot him. You put her (Johnston) there."
Waggoner told Samuelson, during the interview, that he believed law enforcement failed to respond to Michishima's alleged actions prior to the shooting.
"Where the f*** were they (police) when he broke into my garage," Waggoner asked Samuelson. "This m*****f***** terrorized my family, but you didn't do a f*** thing."
At that point, Waggoner said he'd cease talking until he could talk to both his lawyer and Johnston. Samuelson testified that she was being interviewed by Jamestown Police Detective Rex Goot and Ellicott Police Department Detective Kevin Pierce around the time he was interviewing Waggoner. Samuelson, in addition, testified that Waggoner never called Jamestown Police on Michishima.
Waggoner, in the interview, told Samuelson that Michishima identified himself as a "snitch", or criminal informant, for law enforcement.
Chautauqua County Public Defender Ned Barone asked Samuelson, during cross-examination, about a photo that was taken in June of him and Michishima in the parking lot of the Jamestown Cycle Shop. Samuelson said that he, along with two drug investigators (not pictured) were investigating a burglary during that time period. On the date of the photo, they were also responding to a report of a suspicious person.
WNYNewsNow will continue to attend the trial proceedings, which are slated to continue next week.