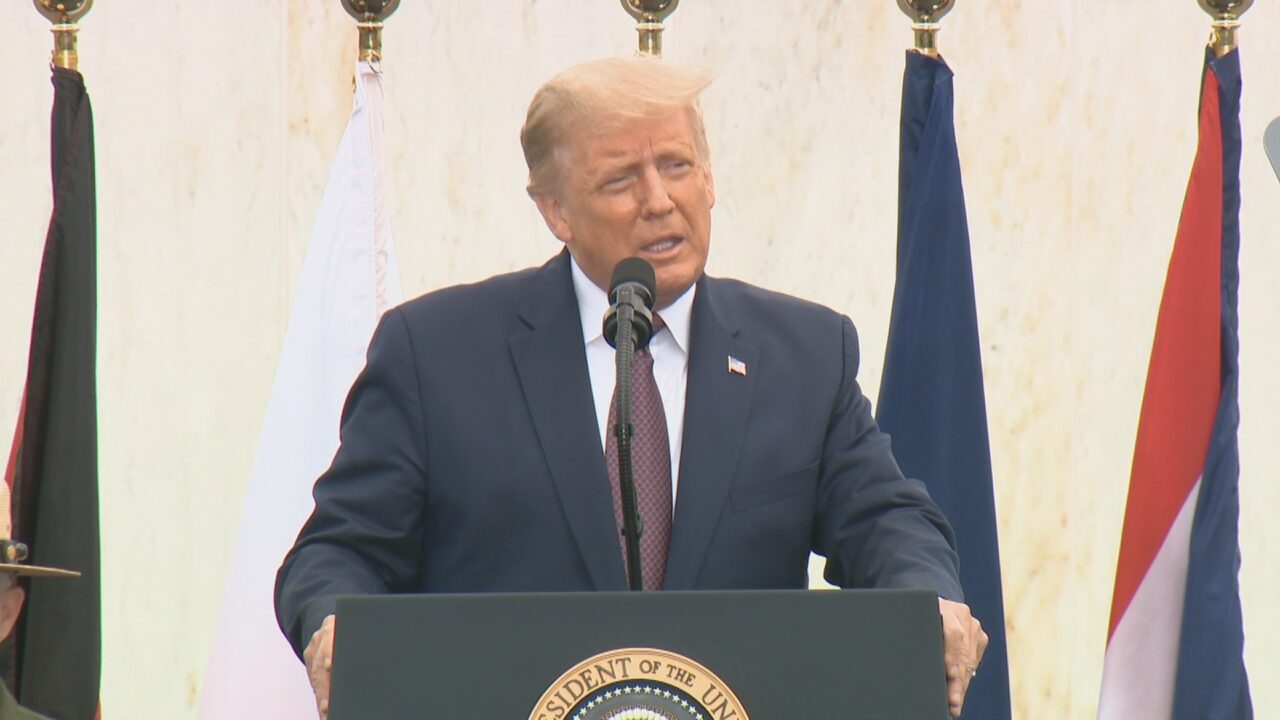 App users, tap here to watch video report.
PENNSYLVANIA — President Donald Trump and Democratic nominee Joe Biden took time from their campaign to honor and memorialize those lost in attacks on the 19th anniversary of the terrorist attacks in New York, Washington and Pennsylvania.
"Nineteen years ago, on this day, on this very hour, on this field, 40 people triumphed over terrorism," Trump said while honoring the fallen members of Flight 93.
"We mourn deeply for the nearly 3,000 precious souls who were taken from us on 9 11, 2001," the president said. "Your pain and anguish is the shared grief of the entire nation."
"America will always stand up, stand tall and fight back," Trump said.
Biden opened his remarks by quoting poet William Butler Yeats.
"Pray I will, and sing I must and yet, I weep," Biden said.
"To the families of the fallen, I admire your courage," the former vice president said. "I never had the courage in a similar circumstance for me, I never had the courage to show up the first five or six years."
Trump said only those who experienced the loss can understand it.
"We cannot fill the void in your heart. While we cannot erase your pain, we can help to shoulder your burden."
He hailed the passengers and crew of Flight 93 for being true American heroes.
"The 40 of Flight 93 did the most American of things, they took a vote and then they acted, they charged the cockpit, they confronted the evil."
In remembering the firefighters lost on 911, Biden said he doesn't understand that calling.
"God created all men equal, but then he created firefighters," Biden said. "I don't understand it completely, I think you're all crazy, but thank God you are. Thank God you are."
In citing the heroes refusal to bend their will, Trump said American resolve must remain strong.
"America will never relent in pursuing terrorists that threaten the American people."
While no remarks, no message can heal the wounds of the families who lost loved ones, Biden said their courage remains a constant hope.
"I know no message, even over time ultimately heals the wounds," Biden said. "Your physical presence gives hope to thousands and thousands of people.
"Real courage is when you know what you are about to do, you've had time to think about it, you know what you are about to do and you still do it," Biden continued.
"The 911 generation created the finest warriors we have ever seen in American history," Biden continued. "After 911 and seeing your resolve, 4.6 million joined up to join the US military."
Warning that people have become numb to violence, Biden said Americans have only one sacred obligation.
"We only have one truly sacred obligation and that is to take care of those who serve us, protect us and take care of their families when they come home," Biden said.
"What you have, what I have, what we have, we have what most people long for, a love and a memory so cherished and profound it makes everything in our lives worth doing."