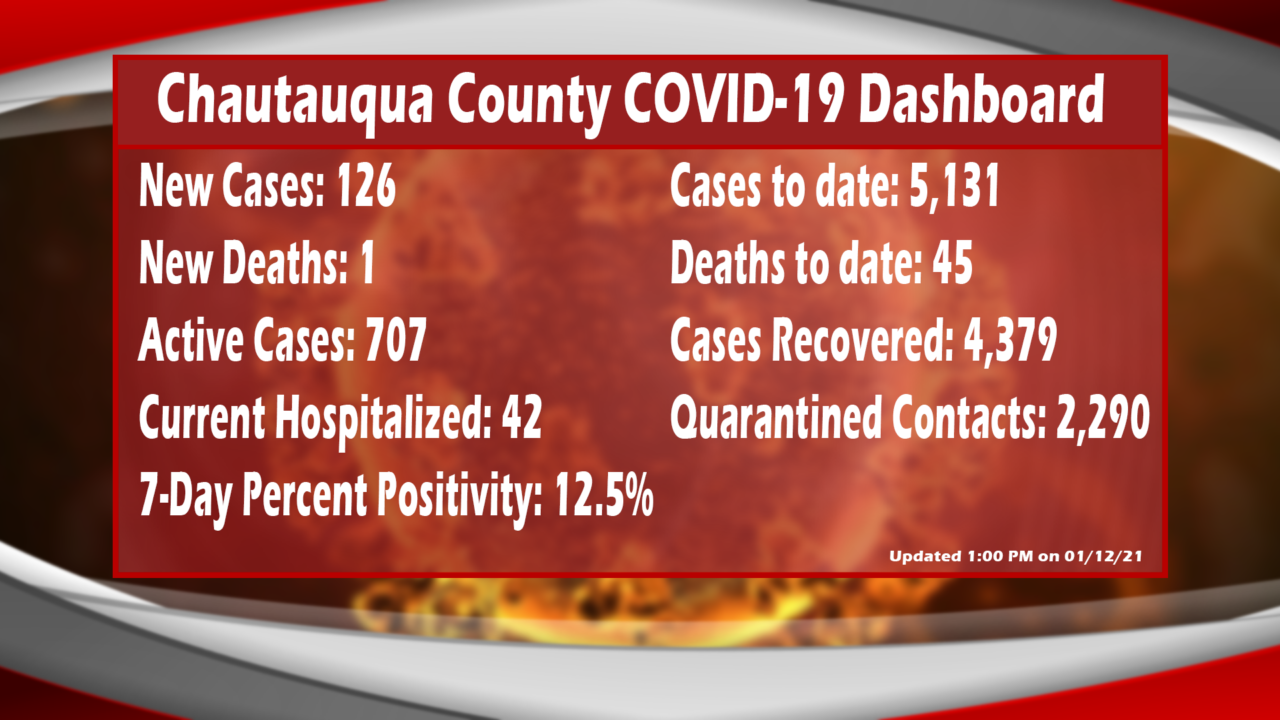 MAYVILLE – A new death connected to COVID-19 and 126 additional cases of the virus were reported in Chautauqua County on Tuesday afternoon.
The county Health Department's COVID-19 Dashboard reports the death, the 45th since the pandemic began, involved an 80-year-old.
A new statistic is now included in the update, the number of those vaccinated against COVID-19. So far, leaders say 3,503 doses have been administered making up 2.7 percent of the population. Leaders say 162 people have received the second vaccine dose, 0.12 percent of the population.
There are 707 cases now active, with 202 in the Jamestown area. The seven-day average percent positivity rate is at 12.5 percent, down from 13.4 percent.
There also remains 42 people hospitalized countywide. Of the 5,131 cases reported since the pandemic started, 4,379 people have recovered.
A breakdown of more data is posted below:
COVID-19 Cases by ZIP Code of Residence
| | | | | | |
| --- | --- | --- | --- | --- | --- |
| Zip Code | New Cases | Active Cases | Active Case Rate (per 100,000 residents) | Total Cases | Percent of Total Cases |
| 14048- Dunkirk | 20 | 144 | 1015.7 | 931 | 18.1% |
| 14062- Forestville | 1 | 14 | 431.0 | 129 | 2.5% |
| 14063- Fredonia | 11 | 77 | 524.7 | 651 | 12.7% |
| 14081- Irving | 0 | 0 | 0.0 | 36 | 0.7% |
| 14136- Silver Creek | 4 | 23 | 505.4 | 193 | 3.8% |
| 14138- South Dayton | 0 | 3 | 149.6 | 15 | 0.3% |
| 14701- Jamestown | 28 | 202 | 508.4 | 1344 | 26.2% |
| 14710- Ashville | 2 | 18 | 550.8 | 93 | 1.8% |
| 14712- Bemus Point | 16 | 22 | 692.3 | 177 | 3.4% |
| 14716- Brocton | 4 | 16 | 582.7 | 120 | 2.3% |
| 14718- Cassadaga | 4 | 6 | 301.8 | 43 | 0.8% |
| 14720- Celoron | 1 | 2 | 335.0 | 15 | 0.3% |
| 14722- Chautauqua | 1 | 1 | 371.7 | 1 | 0.0% |
| 14723- Cherry Creek | 0 | 6 | 543.5 | 34 | 0.7% |
| 14724- Clymer | 2 | 6 | 254.1 | 100 | 1.9% |
| 14726- Conewango Valley | 0 | 2 | 109.3 | 14 | 0.3% |
| 14728- Dewittville | 1 | 1 | 96.8 | 22 | 0.4% |
| 14733- Falconer | 1 | 16 | 416.2 | 112 | 2.2% |
| 14736- Findley Lake | 0 | 2 | 740.7 | 15 | 0.3% |
| 14738- Frewsburg | 0 | 18 | 554.4 | 169 | 3.3% |
| 14740- Gerry | 1 | 4 | 370.7 | 21 | 0.4% |
| 14747- Kennedy | 1 | 15 | 681.5 | 56 | 1.1% |
| 14750- Lakewood | 7 | 30 | 669.2 | 203 | 4.0% |
| 14757- Mayville | 4 | 15 | 454.8 | 174 | 3.4% |
| 14767- Panama | 1 | 5 | 233.0 | 41 | 0.8% |
| 14769- Portland | 1 | 4 | 394.9 | 36 | 0.7% |
| 14775- Ripley | 3 | 8 | 316.2 | 78 | 1.5% |
| 14781- Sherman | 2 | 6 | 287.2 | 57 | 1.1% |
| 14782- Sinclairville | 1 | 13 | 533.9 | 58 | 1.1% |
| 14784- Stockton | 3 | 4 | 384.6 | 37 | 0.7% |
| 14787- Westfield | 6 | 24 | 506.4 | 156 | 3.0% |
| Total | 126 | 707 | 545.3 | 5131 | 100.0% |
COVID-19 Cases by Known Age
| | | |
| --- | --- | --- |
| Age | Number | Percent |
| 0-19 | 645 | 12.57% |
| 20-29 | 915 | 17.83% |
| 30-39 | 684 | 13.33% |
| 40-49 | 711 | 13.86% |
| 50-59 | 756 | 12.24% |
| 60-69 | 628 | 12.24% |
| 70-79 | 340 | 6.63% |
| 80-89 | 192 | 3.74% |
| 90+ | 97 | 1.89% |
COVID-19 Cases by Presence of Symptoms at Time of Interview
| | | |
| --- | --- | --- |
| Symptoms | Number | Percent |
| Yes | 2817 | 75.18% |
| No | 930 | 24.82% |
| Symptoms Known | 3747 | |
Fatality Rate by Age Group
| | | |
| --- | --- | --- |
| Age Group | Total Deaths | Fatality Rate |
| All Ages | 45 | 0.88% |
| 0-39 | 0 | 0.00% |
| 40-49 | 3 | 0.42% |
| 50-59 | 3 | 0.40% |
| 60-69 | 3 | 0.48% |
| 70-79 | 12 | 3.53% |
| 80-89 | 20 | 10.42% |
| 90+ | 4 | 4.12% |
Doses of Vaccine Administered for Chautauqua County Residents
| | | |
| --- | --- | --- |
| | First Dose | Second Dose |
| Number of Vaccination Doses | 3503 | 162 |
| Percent of County Residents | 2.70% | 0.12% |
NYS Fatality Rate: 4.06%
US Fatality Rate: 1.7%
Source: John Hopkins University COVID-19 Tracker 12/29/2020