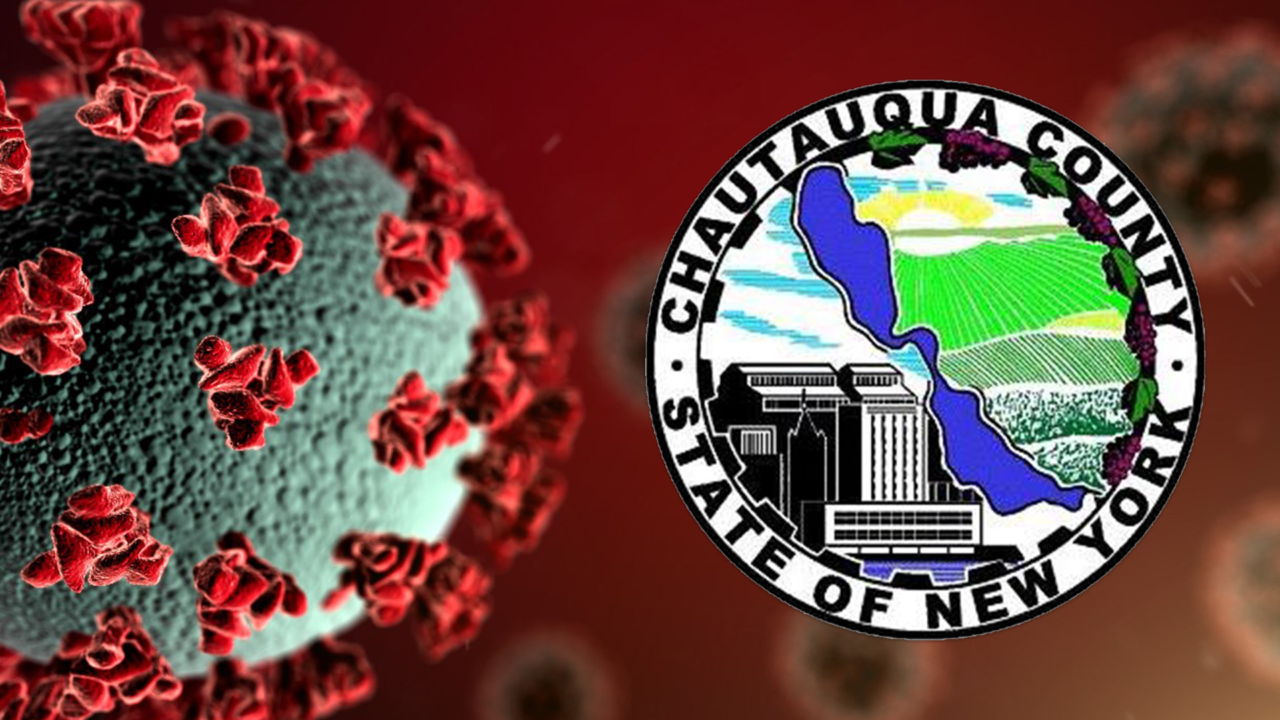 MAYVILLE – Chautauqua County officials have reported two new deaths related to COVID-19 along with 235 new cases of the virus from over the weekend.
In an update to the county's COVID-19 Dashboard Monday afternoon, the deaths involved a 70-year-old and an 80-year-old. County officials have also reported 235 new positive cases along with with 423 of those cases active.
This brings the overall positivity rate to 8.2 percent, down from 9.2 percent on Friday's report.
A full breakdown of the county's report is listed below:
COVID-19 Cases by ZIP Code of Residence
| | | | | |
| --- | --- | --- | --- | --- |
| Zip Code | New Cases | New Daily Case Rate per 100,000 residents | Total Cases | Percent of Total Cases |
| 14048- Dunkirk | 45 | 105.8 | 1179 | 18.9% |
| 14062- Forestville | 4 | 123.2 | 147 | 2.4% |
| 14063- Fredonia | 27 | 184.0 | 758 | 12.1% |
| 14081- Irving | 1 | 31.9 | 48 | 0.8% |
| 14136- Silver Creek | 7 | 153.8 | 240 | 3.8% |
| 14138- South Dayton | 2 | 99.7 | 20 | 0.3% |
| 14701- Jamestown | 49 | 123.3 | 1603 | 25.6% |
| 14710- Ashville | 5 | 153.0 | 118 | 1.9% |
| 14712- Bemus Point | 5 | 157.3 | 231 | 3.7% |
| 14716- Brocton | 12 | 437.0 | 170 | 2.7% |
| 14718- Cassadaga | 1 | 50.3 | 49 | 0.8% |
| 14720- Celoron | 3 | 502.5 | 20 | 0.3% |
| 14722- Chautauqua | 0 | 0.0 | 3 | 0.0% |
| 14723- Cherry Creek | 4 | 362.3 | 43 | 0.7% |
| 14724- Clymer | 3 | 127.1 | 106 | 1.7% |
| 14726- Conewango Valley | 0 | 0.0 | 15 | 0.2% |
| 14728- Dewittville | 2 | 193.6 | 28 | 0.4% |
| 14733- Falconer | 2 | 52.0 | 136 | 2.2% |
| 14736- Findley Lake | 0 | 0.0 | 16 | 0.3% |
| 14738- Frewsburg | 4 | 123.2 | 189 | 3.0% |
| 14740- Gerry | 2 | 185.4 | 39 | 0.6% |
| 14747- Kennedy | 6 | 272.6 | 73 | 1.2% |
| 14750- Lakewood | 14 | 312.3 | 244 | 3.9% |
| 14757- Mayville | 2 | 60.6 | 192 | 3.1% |
| 14767- Panama | 0 | 0.0 | 46 | 0.7% |
| 14769- Portland | 0 | 0.0 | 42 | 0.7% |
| 14775- Ripley | 4 | 158.1 | 95 | 1.5% |
| 14781- Sherman | 6 | 287.2 | 73 | 1.2% |
| 14782- Sinclairville | 4 | 164.3 | 77 | 1.2% |
| 14784- Stockton | 1 | 96.2 | 46 | 0.7% |
| 14787- Westfield | 20 | 422.0 | 207 | 3.3% |
| Total | 235 | 181.3 | 6253 | 100.0% |
COVID-19 Cases by Known Age
| | | |
| --- | --- | --- |
| Age | Number | Percent |
| 0-19 | 803 | 12.84% |
| 20-29 | 1094 | 17.50% |
| 30-39 | 855 | 13.67% |
| 40-49 | 835 | 13.35% |
| 50-59 | 902 | 12.38% |
| 60-69 | 774 | 12.38% |
| 70-79 | 419 | 6.70% |
| 80-89 | 249 | 3.98% |
| 90+ | 132 | 2.11% |
COVID-19 Cases by Presence of Symptoms at Time of Interview
| | | |
| --- | --- | --- |
| Symptoms | Number | Percent |
| Yes | 3549 | 74.09% |
| No | 1241 | 25.91% |
| Symptoms Known | 4790 | |
Fatality Rate by Age Group
| | | |
| --- | --- | --- |
| Age Group | Total Deaths | Fatality Rate |
| All Ages | 77 | 1.23% |
| 0-39 | 0 | 0.00% |
| 40-49 | 4 | 0.48% |
| 50-59 | 3 | 0.33% |
| 60-69 | 6 | 0.78% |
| 70-79 | 19 | 4.53% |
| 80-89 | 26 | 10.44% |
| 90+ | 6 | 4.55% |
(Date of Birth is currently missing for 13 cases and will be updated as data becomes available.)
NYS Fatality Rate: 4.06%
US Fatality Rate: 1.7%
Source: John Hopkins University COVID-19 Tracker 12/29/2020
Doses of Vaccine Administered for Chautauqua County Residents
| | | |
| --- | --- | --- |
| | First Dose | Second Dose |
| Number of Vaccination Doses | 3622 | 340 |
| Percent of County Residents | 2.79% | 0.26% |