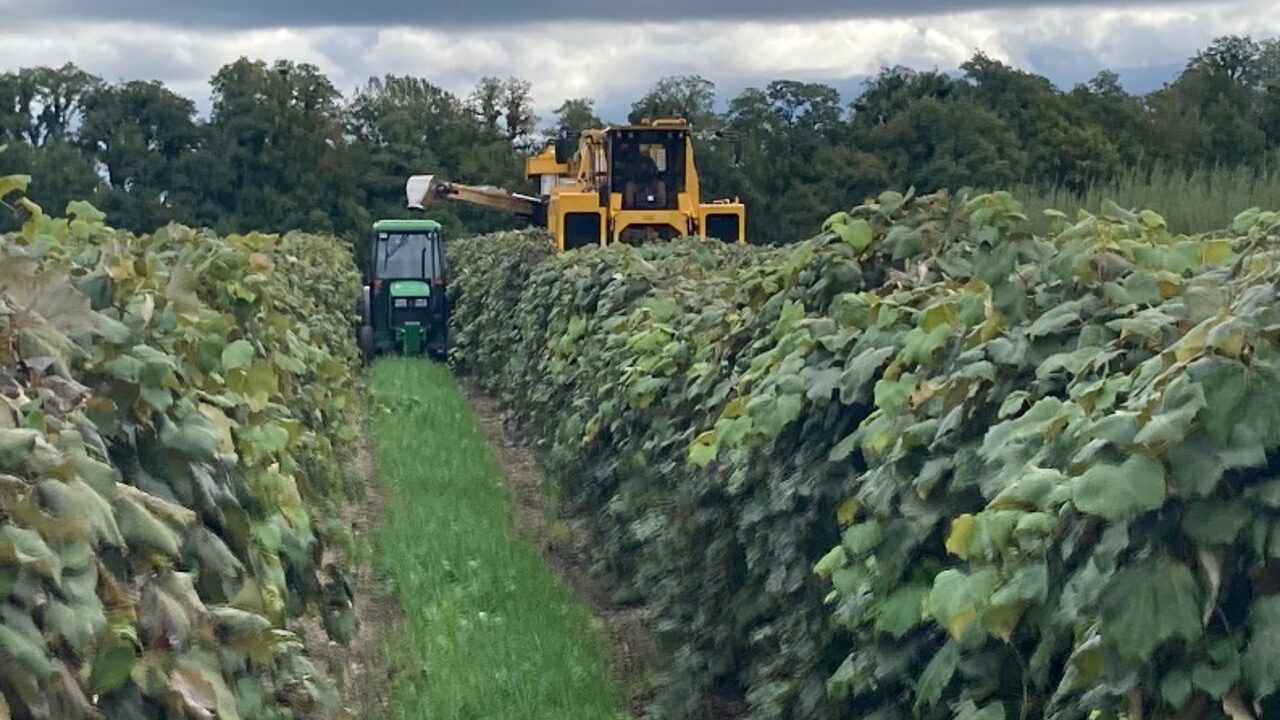 PORTLAND – For Concords, an early spring frost set off alarm bells. With many varieties in short supply, Concord included, nothing could be worse than having a shifting demand curve with a lack of supply. 
Whether it was bud count, fruit set, or large berries most frost damaged vineyards saw smaller crops than their neighbors but still above average. Then there was the hail. It initially appeared to impact a fairly significant number of acres. Some appeared to have visual damage that did not significantly impact yield.  
Unfortunately, for a small percentage of growers it was a complete disaster. It was significant enough to cause some issues with the local Pinot Noir market. The surprise here is that these disasters initially appeared to be widespread events that might have lasting market consequences. As we wrap up the season it appears that all but the most severe frost damage had above average yields and did not struggle with Brix accumulation.  
For some, gross revenue was quite large this year. Native grapes (Concord and Niagara) produced at volume for juice and wine. Those that were harvested timely combined nicely for high yields and prices. A few growers did struggle to make timely cash market deliveries due to slow Brix accumulation as a result of the large crop and frequent rains.  
Concord processors all report receiving large amounts of fruit on a per acre basis. This year the average Brix for Concord juice grapes is around 15.7 across all processors in the Lake Erie Region. This is significantly lower than average. It is also difficult to imagine having a year with a lower average unless changes in minimum standards across all processors were implemented. 
As far as Cooperatives are concerned the theme is similar. Brix accumulation was a larger concern and is likely to impact revenue for some growers. These growers cannot know for sure how gross revenue will shake out. Most signs point toward a healthy market. 
Products that indirectly compete with grapes have seen significant increases in price. This is most apparent in the juice grape market as corn, processing apples and other commodities have increased in price. This provides us with some expectations that prices going forward will be reasonably healthy for the next 11 months.  
Containment of this crop and Brix accumulation issues have delayed the conclusion of harvest. Processing facilities in the Lake Erie Region closed or plan to close between October 29 and November 17th. This will easily break records for the longest overall harvest at 10 weeks for Concords with other varieties harvested before and during that period. Crop containment has led to increased concentrate volume, trucking and even unharvested fruit.  
Lower priced wine grapes, particularly natives and older hybrids have had a tough year. These prices have come down over the last few years and many markets are still not paying a premium for these varieties. Now the market looks particularly bad as Concord prices rise. I would expect the acreage of these varieties to be reduced if market conditions do not change quickly. Of course, that is likely to create a shortage in a few years. The cycle continues.  For many growers this may well be the most successful year ever, yet we must acknowledge the challenges and disasters of other growers. 
The Lake Erie Regional Grape Program is a cooperative effort between Cornell and Penn State Universities; the participating Cornell Cooperative Extension Associations of Chautauqua, Erie, Niagara and Cattaraugus Counties in New York and Erie County in Pennsylvania; and participating industry partners National Grape Cooperative (Welch's), Constellation Brands and Walkers Fruit Basket.   
The LERGP extension team provides research-based educational programming for commercial grape growers throughout the year at venues across the Lake Erie grape belt.  For more information on LERGP, call 716-792-2800 or visit our website at lergp.cce.cornell.edu. 
This story was provided by Kevin Martin with the Cornell University Cooperative Extension.