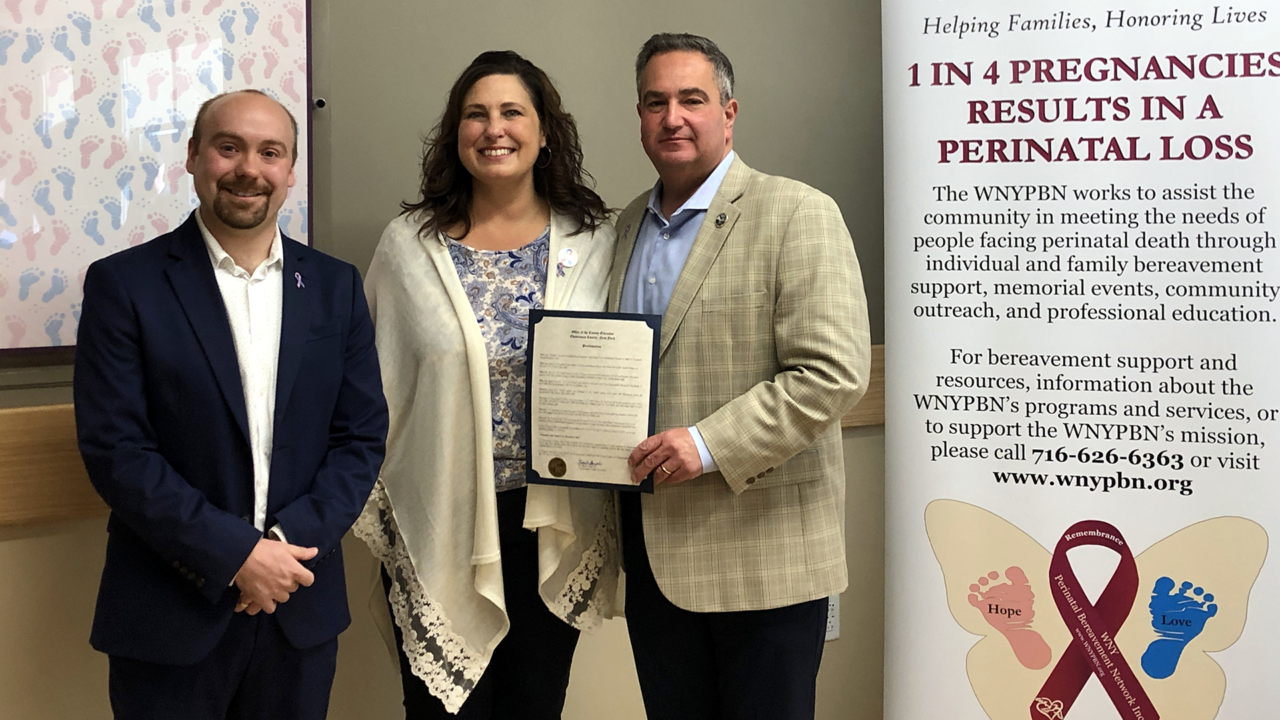 JAMESTOWN – Chautauqua County residents and community organizations came together Tuesday to recognize the day as National Pregnancy and Infant Loss Remembrance Day with a special remembrance ceremony and reception at the maternity lobby at UPMC Chautauqua.
The ceremony was a collaboration among the Western New York Perinatal Bereavement Network, Inc., UPMC Chautauqua; and the Chautauqua County Executive's Office.
National Pregnancy and Infant Loss Day was established as a way to honor, celebrate and remember the babies who have passed away due to miscarriage, ectopic pregnancy, stillbirth, or other early infant death.
Many communities across the nation observe this special day with remembrance ceremonies and candle-lighting vigils. In addition, since 1988, the month of October has been recognized as Pregnancy and Infant Loss Awareness Month.
"Too many families still continue to grieve in silence," said Christine Scott, Executive Director of the Western New York Perinatal Bereavement Network. "We want grieving families to come together and feel surrounded by love and support and know that they are not alone."
In the United States, one in four pregnancies ends in a perinatal loss and it is a tragedy that impacts people from all regions and all walks of life.
In addition, more than 26,000 babies are stillborn in the United States each year, and thousands more are miscarried or die shortly after birth.
According to the New York State Vital Statistics Event Registry, in Chautauqua County each year about 7 of 1,000 babies die between 28 weeks gestation and 7 days after birth, and about 6 babies per 1,000 live births die within a year of a live birth.
During the remembrance ceremony in Jamestown, Scott welcomed members of the community as they gathered in the new maternity wing at UPMC Chautauqua to observe this day of remembrance.
"The WNYPBN collaborates with the 12 labor and delivery hospitals in Western New York allowing us to be in contact with those who experience pregnancy loss by offering them support, compassion, care and resources in the days following their loss and for their lifelong healing journey," said Scott. "Today, let us grieve with parents who have lost a child, grandparents who have lost a grandchild, siblings who have lost brothers and sisters, and all family and friends impacted by this tragedy."
Brian Durniok, President of UPMC Chautauqua, also spoke about the hospital's new maternity unit and the hospital's role in helping bereaved families. He also highlighted the hospital's newly established Angel Board, which honors the angels delivered at UPMC Chautauqua.
"Over 600 times a year UPMC Chautauqua is honored to share in the joyous event of childbirth," said Durniok. "We are thrilled to have recently opened a new state of the art maternity unit where our outstanding physicians and staff provide the highest quality of care. Sadly, not all pregnancy and childbirth outcomes are joyous. Today we gather for this special ceremony to remember the babies, family and friends impacted by loss. Most important, we gather here today as a community to offer our support, compassion and comfort to all of the bereaved families and friends."
Chautauqua County Executive George Borrello also presented a proclamation at the event to recognize October 15, 2019 as Pregnancy and Infant Loss Awareness Day in Chautauqua County.
"It is important that our residents and community organizations come together to remember the babies who have passed away and to raise awareness and support for those who experience pregnancy and infant loss," said Borrello. "This type of loss affects many people and many of us may know a family member or a friend who has experienced the tragic loss of their beloved baby. It is important that we come together as a community to provide love and support to these grieving families and any family that has suffered the loss of a child."
Support and services for bereaved families are available through the Western New York Perinatal Bereavement Network.
The organization is dedicated to assisting the community in meeting the needs of individuals facing perinatal death. It serves families throughout the eight counties of Western New York and all of its programs are funded through the contributions of donors, volunteers and supporters.