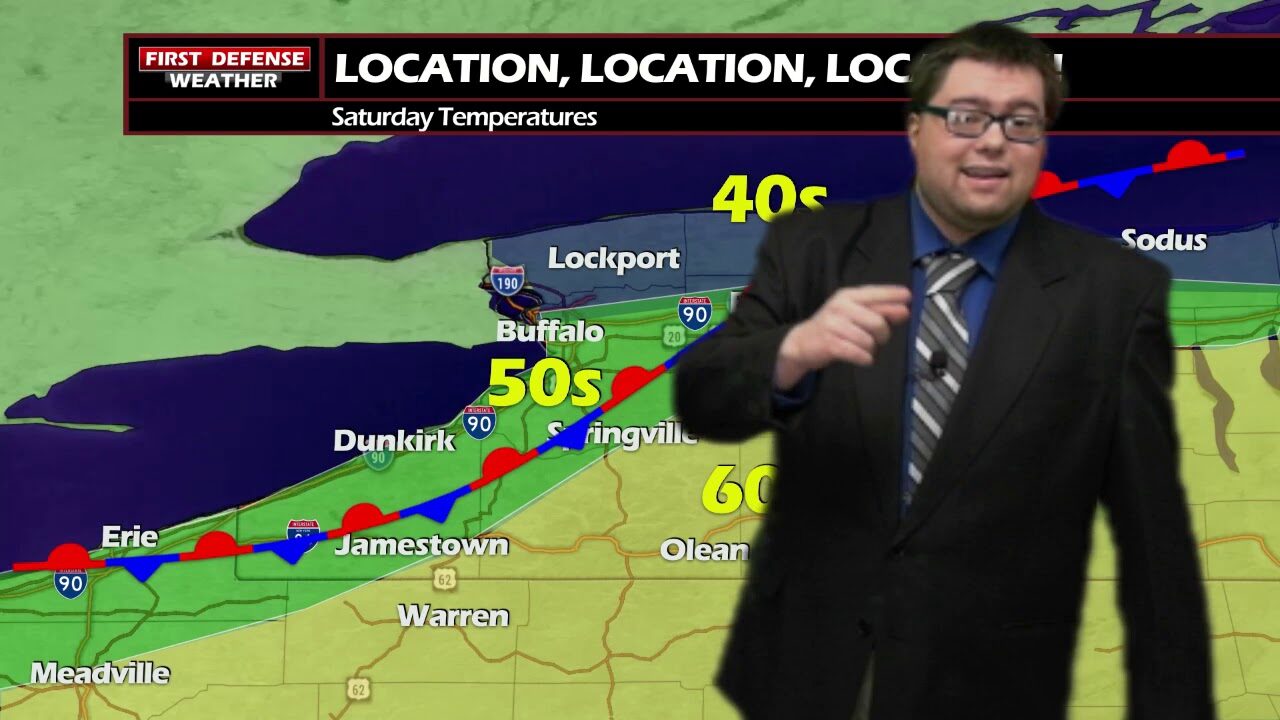 JAMESTOWN – As per usual with the end of March around Western New York, winter will make another run over the weekend equating to some snowflakes flying in the air.
Rain showers have been on and off throughout the day today and those will continue as we work through the afternoon. Temps are also reflecting that rain and cloud cover as they have not moved much so far today. We will likely end the day in the lower 40s.
The rain will uptick in coverage as we go through the night, becoming more widespread in nature by Midnight. Morning lows will range between the upper 30s to lower 40s.
The weekend will be Mother Nature's hissy fit as we will go front Spring right to Winter in about 24 hours. The setup here is relating to a front that will move in tonight and just lumber across the region. With the front not budging, that will create some big temperature contrasts across the region on Saturday.
Areas well to the north near Lake Ontario will be in the coldest sector of this front, staying in the 40s all day with a cold north wind, 50s will range from around Buffalo down to the New York/Pennsylvania State line, with areas well to the south and east making it into the lower 60s thanks to a warmer south wind.
As the colder air wins out and begins to over take the warm air Saturday night, a changeover from rain to snow will occur with snow showers continuing through Sunday.
There will be the chance for a wet one or two inches of accumulation on Sunday with the majority of the accumulation correlating with elevation; the higher up in the hills you are, the better the chances you have of seeing a couple inches of fresh white stuff.
High pressure will start to build back in early next week, bringing back some sunshine and another run at 60 come later in the week.
Storm Spotter Training: The National Weather Service in Buffalo will be conducting their first ever online training class on Tuesday, May 2 at 7:00 PM. For the online training, you do need to preregister as spots for the online are limited. You can register your spot a www.weather.gov/buf/skywarn
Attendees will learn many topics to becoming a trained storm spotter, such as identifying storm structure, basic meteorology relating to severe convection (severe thunderstorms, tornadoes, etc),  severe weather safety, and proper reporting techniques.
I encourage everyone to attend a training session; we are in desperate need of more trained spotters. What many people may not know is that spotters actually contribute to the warning process. Remember, Doppler radar looks above the ground; it's only spotters who see what is happening down at the ground.
WNYNewsNow is a proud Ambassador for the NOAA Weather-Ready Nation program.